Grenada crime scene team in sweep
Grenadian police yesterday boarded the deserted Island Princess which is moored at the cruise ship terminal in St. George's but found no bodies or any signs of foul play.
However, sources tell Stabroek News that two Guyanese passports and other personal belongings were found in the cargo vessel which vanished from the Essequibo River area about two weeks ago along with its four-man crew. Three disembowelled bodies washed up along the Essequibo coast days later with gunshot wounds.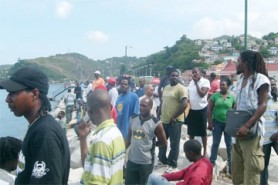 Speaking to Stabroek News from the island yesterday, a security source said that the all-over white vessel with registration number 0000471 was found just inside Grenada's waters and was towed into port yesterday morning by a US navy vessel.
This newspaper was informed that there were large pools of water on board the vessel. Asked if there were any signs indicating that anything sinister occurred on the vessel, the source replied in the negative.
However, two passports belonging to Guyanese and other personal items were present confirming that persons recently occupied the vessel, he informed this newspaper.
The source said that he was not in a position to reveal the names printed in the passports but assured this newspaper that the documents were of Guyanese origin.
All branches including CID and port authorities of the Royal Grenada Police Force (RGPF) and related agencies are helping in the investigation to determine the circumstances which led to the vessel entering Grenadian waters.
Police had announced in a press release on Monday afternoon that they were in receipt of information that the vessel had been sighted off the coast of Grenada.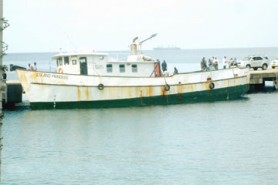 According to the release, this information was conveyed by the US Drug Enforcement Agency (DEA) and arrangements were being made to board it and have the vessel returned to Guyana.
Crime Chief Seelall Persaud said yesterday that the vessel is in Grenada and was being processed by the crime scene investigators. Asked if there are any plans to send local police there to assist he replied in the negative and later indicated that the vessel will be brought back here once the processing has been completed.
The Ministry of Home Affairs has since given permission to the appropriate Maritime Task Force to enter Guyana's waters in control of the vessel and to have it moored at Port Georgetown.
A Guyanese residing on the island told this newspaper that he was only alerted to the presence of the vessel yesterday morning. According to him it was towed to the dock by a US ship that usually patrols that area.
He said that it arrived around 9:45am and many curious persons gathered to get a glimpse. He said that CID ranks and customs officials among other persons boarded the vessel and began conducting investigations. No civilian was allowed near the vessel, he said.
When he last spoke with this newspaper, he reported that water was being pumped out of it.
At the time of its disappearance Mahendra Singh called Sunil, Ryan Chin, Rickford Bannister and Titus Buckery Nascimento were aboard and with yesterday's sighting, observers were clinging to the hope that Bannister would be found aboard. Now that no body was found, there are even more questions as to where he might be. There are suggestions that his body was either dumped somewhere else, he is alive or is with the persons who boarded the vessel and killed the crew.
When the four left home they told relatives that they were going to work on a trawler. Bannister had told his wife when he left in August that he was going to guard a boat and then he was going to Trinidad.
However his wife failed to contact him on the numbers he had left with her.
Nascimento was scheduled to return home on September 26 but called home saying he would be coming the following morning instead. He never showed up.
From all reports, the men were alive up to the morning of September 29, as Chin, a resident of Linden had contacted his aunt telling her that he had just finished cooking and was relaxing on a trawler. Subsequent efforts to contact him failed.
The Island Princess was originally a trawler but it underwent extensive repairs to have it converted to a cargo vessel which its owner Errol Prince subsequently contracted out to persons.
Why the men were killed is still baffling but security sources have told this newspaper that the vessel had been caught up in a drug transaction which led to the violent murders. The bodies would have been gutted to ensure that they sank faster.
Prince and Rohan Paul called 'Jango' to whom the vessel was contracted had denied that the vessel had any drug links.
Prince had been searching in Guyana's waters for the vessel since it disappeared and on Monday he had told this newspaper that there was a possibility that it was no longer in this country. He had offered $5M for information that could lead him to the location of his "lifeline" which he felt could have clues indicating what happened to the crew on board.
DriftedIt is believed that the Island Princess may have been drifting for several days based on the amount of water that was found in the vessel. How it managed to reach that far undetected is unclear.
Several security sources told Stabroek News yesterday that based on where it was found drifting there is the possibility that the perpetrators had decided to leave the vessel after realizing that they could not escape detection.
The source told this newspaper that local investigators are hoping that some clues will be found aboard to help them figure out what really transpired on the Island Princess and the motive for the men being murdered in such a brutal manner.
Though, relatives have claimed the three bodies, DNA tests are yet to confirm if it is indeed them. Samples were taken from the bodies which had to be exhumed and since Guyana does not have the capability to handle that sort of testing, they will be sent overseas.
The police have not revealed where it would go but sources have indicated that they will be sent to Jamaica, where the Lindo Creek samples were also sent.
Around the Web