Woodette Roberts, 22, also called "Buckman" and "DJ Stress," of 221 Kuru Kururu, Soesdyke, left home on an unscheduled trip on Tuesday night. The next thing his family heard was that he was found dead on the highway. He was reportedly found lying face down with his hands cuffed behind his back and his legs duct taped just off of a trail at Dora, Linden Soesdyke Highway after being abducted by a group of men identifying themselves as police.
Roberts left his home at around 9 pm in a gold coloured Toyota Tacoma pick-up land cruiser, GLL 7171, driven by Roopchand Gopaul, 38, with Sean Embleton, called 'Deportee Sean,' 25, as the other occupant. They were reportedly on their way to an area called 'Frenchman' to mine gold and diamonds.
Police yesterday reported that the pick-up was hijacked and used to launch gun attacks on the Brickdam Police Station, East La Penitence Police Outpost and the High Court.
The three men were intercepted at around 0015hrs in the vicinity of Loo Creek, Linden/Soesdyke Highway, when a white Toyota wagon and a silver grey motor car overtook them and signalled for them to stop, using a red triangular reflector like the ones used by police. Police reported that eight men, dressed in black clothing resembling police uniforms and bullet proof vests, one of which was marked 'Police,' exited the vehicles and identified themselves as policemen searching for arms and ammunition. During that time, two persons dressed in civilian clothing and driving a grey Carina motor car approached and spoke to the men in uniform and went off in the direction of Dora. The armed men handcuffed Roberts, Gopaul and Embleton and placed them in the tray of the Tacoma pick-up and drove off. Both Gopaul, who reportedly ran all the way from Dora to Kuru Kururu, and Embleton managed to escape from their captors, while Roberts was later found dead. When relatives viewed his body at the Lyken's Funeral Home yesterday, they observed that his tongue was protruding and there was froth at the corner of his mouth. There were no other visible sign of injuries.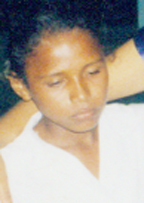 'A miraculous escape'
Even as Roberts' family were still coming to grips with his death, Gopaul's wife Michelle spoke of his escape on the highway. She said her husband arrived home in a state at around 6am yesterday morning and he told her that they were hijacked somewhere at Silver City on the Linden Highway.
According to the woman, her husband related that while he was driving he saw a white vehicle following and they were flagged down by what he assumed was a police reflector. "He seh how he thought was police and he stop and do what he need to do as he think is just police doing dem wuk," the woman said. She said her husband related that "more than four man" exited the vehicle and they were dressed in what looked like police attire and armed with guns. "Me husband seh dem pull all three a dem out deh vehicle and start to beat dem and handcuff dem, tie up dem foot, duct tape dem mouth and throw dem at deh back of deh vehicle," the woman said.
She was a bit hazy about the other details of the event but she said as far as her husband told her, they were driven to another area and the men then took them to different locations. However, before that the men fired gunshots. The men also reportedly demanded "all deh gold and diamond." "He seh how dem beat he up, cuff he and slap and suh in he face and when dem been carrying he to put he to lie down on deh ground he start to bleed through he nose and he fall down and dem lef he lying right deh," he added.
Gopaul's wife said the handcuffs were released and his hands were later tied with something which he managed to loosen after the men had gone with his other two colleagues. "He loose out he foot and he start fuh run and he hear a gunshot fire but  he run still," the woman said adding that "me husband half already because he can't walk good but he run and he run." The man said he hid whenever a vehicle was approaching as he was afraid if he stopped anyone for help it could have been the gunmen.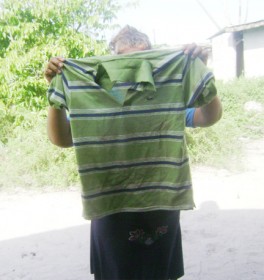 Hours later he arrived at his Kuru Kururu home and related his ordeal to his wife and children.
They called someone in the area for advice and they were instructed to report the matter to the police and they did so at the Kuru Kururu Police Station, from where the man was taken to Georgetown for further questioning.
Reports are that Embleton also managed to set himself free and made his way to a friend on the highway and related his ordeal. It was that friend who took him to the police station and reported the incident and later Roberts's body was found.
But Embleton's relatives yesterday said they had not received any word on his well-being, with repeated calls to his cell phone yielding nothing. One relative said that young man was supposed to go to Mahdia to meet his mother but he suddenly decided that he was leaving on Tuesday night for a different location. The relative said that they only knew something was wrong when the owner of the vehicle called and related that police "with long, long guns been at she." She explained that while the vehicle was really Embleton's he bought it on higher purchase and it was registered in a woman in Georgetown's name.
She said the woman told her the lawmen went to her home with guns and told her that the vehicle was "used to shoot up police station and suh." The woman, she said, told them that the lawmen told her not to be afraid as they just wanted to ask her some questions. "I ent really know what happen, I don't even know if Sean alright or nothing, I don't know wah happen," the relative said.
'A Fine hustle'
According to Celestine Roberts, the aunt with whom Roberts had been residing for the past few months, the young man approached suddenly on Tuesday night told her he was going in "deh bush on a fine hustle." She said she was surprised at the suddenness of the announcement as he had indicated he was leaving yesterday morning with some other persons in the area. She said she had to beg him to wait for his dinner even as he hurriedly packed his clothes and equipment for the bush. The woman said she had a bad feeling about the trip and she repeatedly asked the young man whether he was certain he wanted to go but he appeared to be in a hurry to get out of the yard. "And when deh [going] deh vehicle ent starting and deh had to come and look at it and deh driver say like dem cross the vehicle," the woman said as she wept. She said it was around 6am yesterday morning she received information that the man had died.
The young man's mother, Carmen Roberts, yesterday was at a loss for words over the death of her youngest. She is still reeling from the death of her eldest child who passed way in April last.
"It is too much fuh me, is why deh kill Buckman, why deh kill he?" the woman questioned yesterday. She said when the news reached her at around 9am yesterday morning it took her a while to believe as the last time she saw her son was on Tuesday and he indicated he was leaving for the interior later this week and as such she was shocked to hear he had left his uncle's home on Tuesday night. The woman said her son has cheated death twice before, once when the excavator he was operating malfunctioned and another time when he and another colleague were covered in a pit. This time around it was three times too much, she opined. It was only two days prior that Roberts had come out of the interior and his mother said she wished he would have remained at home for a longer period of time.
Yesterday the woman and a number of her other relatives called for a clearer picture of what really occurred on the highway. "If people want to hijack a vehicle to use in town why deh go hijack one from till on the highway?" an aunt of the young man questioned. She was joined by others who questioned the story of Gopaul, who according to his wife had difficulty walking because of an old snake bite to one leg and a gunshot wound to the other. They thought it was unlikely he could have run all the way to his home.
Roberts's mother questioned why Gopual did not stop at her place and inform her that something was wrong with her son as she saw his car speeding past her home early yesterday morning. "Only God can tell we what really happen, it is just strange, it is all strange," a relative of the woman said even as they conversed with family members of both Gopaul and Embleton.
Around the Web