The Choir and Orchestra evolved from the Schools' Festival of Choirs and comprise both secondary and primary students from regions Four, Five, Ten and the Georgetown Educational District. It is hoped that the group will foster team work skills and discipline as well as promote cultural appreciation among other aims which in the end will make the students.
Junior Education Minister Desrey Fox called the launch nostalgic, while pointing out that the idea came about after the Schools' Festival of Choirs. She further stated that the plan is to expand to all ten regions next year so that more students can have a chance to participate and perform at national and international events. She said such activities are important for the holistic development of the child.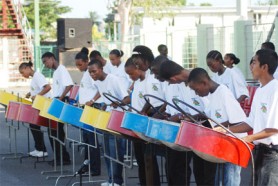 Culture Minister Dr. Frank Anthony, commending the hard work that all involved put into the choir and orchestra, announced that by mid-next year there will be a National Music school. He said that construction of the building is already underway as well as development of a curriculum. He said that the intention with the school is to have both theoretical and practical lessons. He said the gains will be tremendous and it will help to develop the music industry.
The National Schools' Choir consists of students from Annandale Secondary, President's College, Hopetown Primary, Berbice High, Regma Primary, New Silver City Secondary, Central High, Christ Church Secondary and the Bishops' High. The National Schools' Steel Orchestra consists of students from Dolphin Secondary, North Ruimveldt Secondary and Queens College.
Around the Web