People's Progressive Party stalwart Brindley Benn, CCH, the father of Public Works Minister Robeson Benn, died yesterday after a brief illness.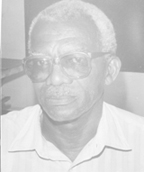 General Secretary of the PPP Donald Ramotar told Stabroek News last evening that the former Deputy Prime Minister of Guyana passed away at his home yesterday afternoon. He died of natural causes. He was 86 and just a few weeks shy of his birthday. Ramotar said the PPP is mourning the loss of the party stalwart who he noted contributed "tremendously" towards the development of Guyana. Speaking on behalf of the PPP, Ramotar said that Benn played an integral role in the political struggles of the 1960s. He said Benn, who held the roles of Minister of Education (1957), Agriculture (1961) and Lands and Mines while serving the PPP, was one of the "giants who stood up against colonialism." He also said that the father of seven fought consistently against "the PNC dictatorship," while that party was in office.
Brindley Benn was born Brindley Horatio Benn on January 24, 1923 in Georgetown, the second of two boys. He was a school teacher at the now Richard Ishmael Secondary School before joining the PPP in the early 1950s after attending a political rally and listening to the late President Cheddi Jagan.
After he was appointed Minister of Agriculture, Benn conceptualised and formed the Guyana School of Agriculture. He also oversaw the implementation of the Mahaica, Mahaicony, Abary Development Project and the Boeraserie, Tapacuma and Black Bush Polder projects.
After the 1964 election when the PPP lost office, Benn left the PPP following differences in opinion with the party. He then formed his own party the Working People's Vanguard Party. And thereafter, in the 1970s, he joined forces with the late Walter Rodney, Eusi Kwayana and Rupert Roopnarine and others to form the Working People's Alliance (WPA). He was later an advisor to the Democratic Labour Movement.
After the PPP returned to office following the 1992 general elections, Benn accepted Jagan's offer to be on the list of candidates of the party and won a seat in Parliament. He was later appointed Guyana's High Commissioner to Canada, a position he held from 1993 to 1998.
The last public offices he held were Chairman of the Guyana Lotteries Commis-sion as well as being a member of the Appeals Board of the Guyana Revenue Authority.
Around the Web