There was nation-wide shock yesterday at the sudden passing of Junior Education Minister Dr. Desrey Fox, who was hailed for her efforts as a champion of the indigenous culture and her quest for an all inclusive education system.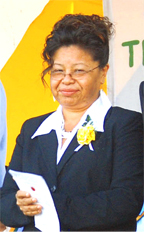 Fox succumbed after 3 am yesterday to injuries sustained in an accident on Tuesday. She was 54.
The government, in a statement extending condolences to the relatives of the late minister, said that President Bharrat Jagdeo and his cabinet colleagues were the first to offer sympathy. Jagdeo expressed his grief to her children and other relatives on her passing before he departed for the Copenhagen climate summit, the statement said.
Memories of the late minister stand out particularly in the area of helping to preserve and make known the culture of the Amerindian peoples.
In 1980, she along with another linguist Dr Walter Edwards worked together in the putting together of Warrau, Arecuna and Akawaio dictionaries.
Education Minister Shaik Baksh, with whom Fox has been working since her appointment as the junior minister within the ministry in September 2006, told Stabroek News that total shock came over him when he learnt of her passing yesterday morning. "I was shocked because all the reports I was receiving was that she was making progress … a pall of grief has taken over the ministry … We are all hurt," Baksh said. He recounted that Fox, who joined the ministry with an extensive and impressive background in education, only recently reactivated the National Schools' Choir and Steel Orchestra, which was launched one week ago at the National Park. Fox had responsibility for the development of technical and physical education, the promotion of culture through music, dance and drama in schools and forged strong collaboration between her ministry and the Ministry of Culture. "Her strong roots in the Amerindian community, in particular, made her a champion of inclusive education and the expansion of the ministry's programme to promote quality education across the sector," he added.
Baksh, however, promised continuity in the efforts started by Fox.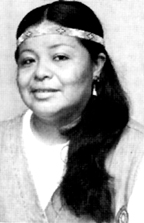 In a statement, the Education Ministry said Fox touched the lives of countless individuals there and had a particular interest in the education of students with disabilities. The statement said too that Fox was highly approachable, caring and considerate and was always willing to lend an ear to the plight of others.
During her initial tenure at the University of Guyana, Fox was an assistant in the Amerindian language project which later evolved into the Amerindian Research Unit.
Dean of the School of Education and Humanities Al Creighton stated that Fox was a woman of great potential. He alluded to Fox's strong cultural bent, her deep knowledge and her involvement in research of Amerindian culture and Amerindian affairs at the university. He pointed too to her keen interest in gender studies. "All this had put her in an advantageous position. She had a lot of creative energy … when you combine all of this, this is a lot of potential and speaks to the kind of contribution she could have continued to make," Creighton stated.
She had left the university to pursue studies in the USA where she was awarded a Ph.D in Linguistics by Rice University. She was also the holder of a MA in Linguistics from Rice University, a MA in Environmental Anthro- pology from the University of Kent at Canterbury and a B.Sc in Sociology from the University of Guyana.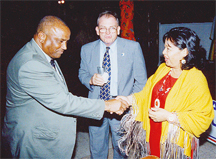 'For her people'
With her experience in anthropology, Fox left an indelible mark on the Walter Roth Museum of Anthro-   pology, where she had worked as Director prior to her entrance into government. Administrative manager, Jennifer Wishart, during a brief interview with Stabroek News yesterday expressed the hope that the museum would be given the right to publish her Ph.D thesis in her memory. Fox, she said, contributed equipment to the museum for recording of Amerindian languages in collaboration with the University of Oregon where she had ties. "Though she was not there with us any longer, she kept in touch with us and would send people here to do research and would call us up to take dictionaries to our people. She was very much for her people," Wishart recounted.
Foreign Minister and former Amerindian Affairs Minister Carolyn Rodrigues-Birkett, who played a major role in Fox's entrance into politics, was still in shock after having visited her at the hospital on Thursday. She had been hoping to return yesterday to see her. "I just got a call that she worsened and then ten minutes after that I got another call to say she was dead," Rodrigues-Birkett recounted, saying that her colleague was an asset to Guyana.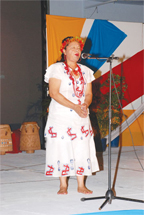 She remembered working with Fox in Amerindian heritage celebrations during her tenure as Amerindian Affairs Minister, recalling that Fox was a great co-ordinator and was always filled with ideas. "Then I spoke to her about politics and about how we should not always complain about the system but try as best we can to help fix things. Then after she met President Jagdeo she was willing to serve. She didn't have to come back to Guyana but she did and wanted to serve Guyanese," she said.
She pointed out too that Fox had done a lot to promote Amerindian culture, noting that "If there is one thing I can say about her it is that she never failed to defend the rights of Amerindian people, whether it concerned her sector or not." She added, "I am glad we spent some time together. She loved happiness and she loved to sing, she loved life."
Though she was not a member of the Amerindian People's Association (APA) the organization also recognized Fox's achievements and noted that it was saddened by her passing and expressed condolences to her family. "Her death also signifies a loss to the academic community and the indigenous community as a whole. She worked for her attainments and she would be greatly missed in her sphere," APA programme Manager Jean La Rose said.
She added that even though the association may not have seen 'eye to eye' with the late minister on issues relating to the indigenous community, it acknowledged that she is one of many who have made an impact on the awakening of the consciousness of the culture of the Amerindian people.
Minister Fox entered the Jagdeo administration following the 2006 elections. The three main political parties yesterday also recognized the contribution of the minister.
The People's Progressive Party said the news of her death was shocking. It said that as a scholar, Fox promoted Amerindian culture as part of the rich multi-cultural tapestry of Guyana. The People's National Congress Reform said the party sadly received the news yesterday morning. The party statement alluded to the minister's extensive research on the indigenous people of Guyana and her significant contributions to their welfare.
The party said it saluted these contributions and extended sympathy to her family and to the people of Waramadong, Upper Mazaruni, her hometown.
The Alliance For Change (AFC) expressed deep shock and regret and extended sympathy to her family. Noting the cause of her death, the AFC said that the reduction of road fatalities cannot be the sole responsibility of the police and said that it requires a collaborative effort by all stakeholders. The party said road deaths and the costly damage to vehicles could be dramatically reduced by a changed strategy.
Dr Fox leaves to mourn three sons and other relatives. Her wake commenced last night at the Carifesta Sports Club Ground and funeral arrangements are to be announced later.
Around the Web