Sister, counsellor, phenomenal, ambitious, simple and role model were some of the words used in tribute to the late minister within the Ministry of Education, Dr Desrey Fox during a service at the Umana Yana yesterday.
Fox, who was also lauded for her dedication to preserving Amerindian culture, died following a vehicular accident on December 11.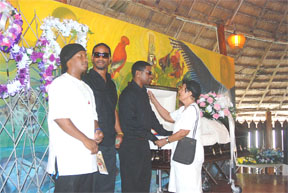 The early morning service saw attendance by Prime Minister Samuel Hinds, who is performing the duties of the President, Members of Parliament, members of the Diplomatic Corps, Vice-Chancellor of the University of Guyana Professor Lawrence Carrington, Ministry of Education staff, and other government and education officials as well as ordinary citizens paying their last respects.
Viewing of the body began at 9 am and lasted for just over an hour. Persons made their way in a line to the Umana Yana's stage where Fox lay in a Mahogany casket dressed in native wear — a white knitted dress with blue interwoven accessorised with beads and headband – and exited through a side door. Mourners offered words of condolence to her sons who stood next to the casket.
While some signed the book of condolence, others milled about talking about Fox's life and the impact she had had on them. Her family and relatives comforted each other when their grief became too much to contain.
Just around 10 am, the service began with a prayer in Akawaio and repeated in English by Pastor Casey Hastings. Fox was a member of the Akawaio tribe. Tributes in her native language continued with hinterland students performing the "National Anthem" in Akawaio; this translation had been done by Fox, a linguist who was fluent in Akawaio.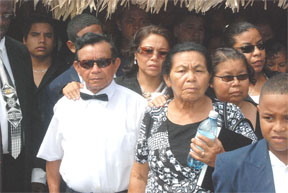 A farewell song to the minister was done in Akawaio by Olive Williams and translated by Fox's brother-in-law. Williams is a member of the Hallelujah singers of Jawalla, Upper Mazaruni, a group that the minister loved, her brother-in-law pointed out.
In tributes to Fox her dedication to her work and the preservation of Amerindian cultures coupled with her love of family and her simplicity were extolled by many.
Director of Resource Management and Training at Iwokrama, Dr Raquel Thomas said, "Desrey was like a sister to me". Thomas recalled Fox as an extraordinary woman whose family and friendships meant the most to her. She highlighted their shared love of music and the minister's firm belief in education beyond the academic, while noting how much Fox herself achieved. Thomas then paid her final tribute with the song "Home At Last Guyana", which she joined the Brothers and Sisters group in singing.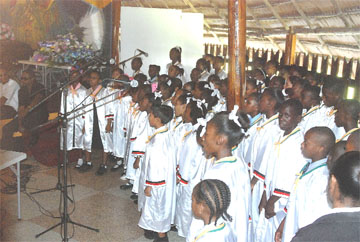 Dean of the Education and Humanities Faculty of the University of Guyana, Al Creighton highlighted the work of Fox at the university. "She was very immersed in the activities of UG life," he said. He traced from the time when she joined the university in 1977 as an assistant in the language project that was to later become the Amerindian Research Unit within the Faculty of Arts to her revision and compilation of the Introduction to Amerindian Studies (AST 111). He spoke of her membership in the university's choir; Fox was active both on stage and in the collection of material gathered in the field, Creighton said.
Fox was saluted by Opposition Leader Robert Corbin as an outstanding daughter of the land who became an icon. "I acknowledge her significant achievements and say they're not ordinary irrespective of place of birth," Corbin said. He called the minister's death shocking but held that she cannot really die since she lives in the memory of those who worked along with her. "I'm confident that she'll live in the memory of all whose lives she touched."
In closing Corbin said that Fox made a life emulating the national song, "Song of Guyana's Children" as she "was exemplary in showing what Guyana's sons and daughters could be if they strive as hard as her."
The minister's brainchild, the National Schools' Choir and Steel Orchestra, which she launched five days before she passed away, paid tribute to Fox in song. Fox had planned to have all schools throughout the regions of Guyana be part of the choir and orchestra. She believed there was more to education than academics and that such activities were important for the development of students.
Also paying tribute to the late minister were PPP General Secretary Donald Ramotar and Prime Minister Hinds. Both extended sympathy to Fox's family with Ramotar saying, "her life is an inspiration to all those who are disadvantaged. It shows how much can be achieved with hard work and dedication."
Hinds said her death was a great loss to the Cabinet and the nation. He said that Fox "provided unique contributions to our cabinet."
The laughter and the tears flowed as the commendations continued with her family paying tribute in song and her brother, Rexford Caesar, reminiscing on how exceptional a cook she was. He said that his sister, who was the eldest of seven, was ambitious and simple and "always so cheerful. Not only have we lost a sister but we have lost a friend; we have lost a counsellor."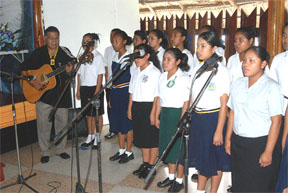 Following the tribute, Ian Persaud read the eulogy which was accompanied by a slide show of the minister's life and works. Persaud said he had been asked by the minister herself to be the one who would read her eulogy. The eulogy was interspersed with poetry readings that reflected the life the minister lived until her death.
The memorial then came to close with an inspirational sermon and closing prayer by Pastor Phillip Bowman.
Her sons and brothers then bore Fox's body to the hearse which led the procession to the Ruimzigt Crematorium where final goodbyes were said before the cremation.
Fox was born Desrey Clementine Fox on January 2, 1955 at Waramadong Village, Upper Mazaruni District. Her academic achievements include a BSc in Sociology from the University of Guyana; a MA in Linguistics from Rice University; a MA in Environmental Anthropology from the University of Kent at Canterbury and a PhD in Linguistics from Rice University.
In 2003, Fox became the curator of the Walter Roth Museum of Anthropology and contributed equipment to the museum for recording of Amerindian languages in collaboration with the University of Oregon where she had ties.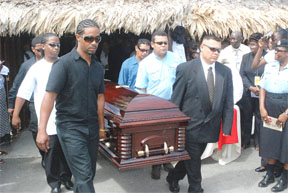 Her move into politics was said to be influenced by her friend, Foreign Minister Carolyn Rodrigues-Birkett. Fox became minister within the Ministry of Education in September 2006 and was responsible for the development of technical and physical education and the promotion of culture through music, dance and drama in schools. She forged strong collaboration between her ministry and the Ministry of Culture. Her efforts as a champion of the indigenous culture and her quest for an all inclusive education system were hailed.  (Tiffny Rhodius)
Around the Web