(Barbados Nation) The statutory fund of CLICO Holdings Barbados Ltd is in deficit to the tune of Bds$93 million, or possibly more, says Opposition Leader Mia Mottley.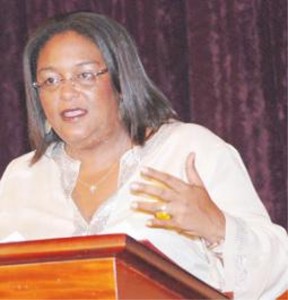 Mottley made the disclosure at a Press conference on Saturday at the Office of The Opposition, stating that she had documentary evidence to support these facts and that 38,000 policy holders and thousands more holders of pension funds and annuities could be affected.
And she called on Prime Minister David Thompson to "address the nation urgently on these matters and level with Barbadians", saying that he was aware of this situation and that he had "shared these facts in writing with a number of persons closest to him, including his Cabinet".
Mottley explained that the Statutory Fund, required by Section 25 of the Insurance Act Cap 310 of the Laws of Barbados, was a fund in which the insurance company must place in trust, enough assets to match their liabilities so as to protect policy holders, in the event of there being financial difficulties that would make it difficult for the insurance company to meet its obligations to policy holders.
She said it was the Statutory Fund being in deficit at CLICO's parent company in Trinidad that caused its regulators to intervene on behalf of the policy holders.
Pointing out that by law CLICO would have to provide, within four months of the close of its financial year, which is December, the information and details regarding the status of its Statutory Fund, Mottley charged: "The facts as now known are that the Statutory Fund as of December 31, 2007, was in deficit to the tune of (Bds)$93 million.
"This is an enormous hole in a fund that is required by law to protect policy holders . . . . We are further advised, as has happened in Trinidad, that this figure ballooned in 2008."
She also recalled that on January 31, the Prime Minister had told the country that he "was fully satisfied that CLICO Barbados was sound, prudently managed and well regulated" and that "Barbadian depositors, investors and holders of insurance policies could therefore be considered safe in the context of our financial sector".
But Mottley, who was surrounded by several members of the Barbados Labour Party (BLP) submitted that: "It is therefore inconceivable that the Prime Minister could be aware of these circumstances and also what was done in Trinidad to protect their policy holders and remain silent and take no action to protect these more than 40,000 families."
She stated that the legislation governing the Statutory Fund in Trinidad and Tobago was the same as that governing the fund in Barbados.
"It was therefore of paramount and urgent importance," she said, "that the Prime Minister, in his capacity as Minister of Finance answer those questions, not for the benefit of the Barbados Labour Party, but for the benefit of more than 40,000 families collectively affected."
The Opposition Leader further pledged that her party "will do all in its power to defend the interest and rights of these Barbadian policy holders and pension fund holders especially since the majority of people affected are relying on this money when they are at their most vulnerable, in their older years".
Around the Web