(Jamaica Observer) HATFIELD, Westmoreland – Shelly-Ann Gordon was looking forward to her 14th birthday this Thursday. But Sunday night, two heartless criminals robbed her of that joy when they took her from her home and cut her throat, leaving her family, neighbours and schoolmates at Frome Technical High in shock at the brutality of her murder.
"The crime reach a my door now," lamented her father, Prince Gordon, on Monday. "I usually only hear about it, but it reach a my door now and it is very bad."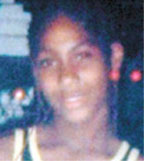 The family's ordeal started at about 11:00 pm Sunday when two armed killers broke into their house.
According to Shelly-Ann's father, the intruders first held his sister and daughter at gunpoint before storming into his room.
The distraught father said the men ordered them to lie on the floor then bound his hands and feet. His sister was also bound. They threatened to kill his daughter if he made an alarm.
The butchers robbed their victims of J$300 cash and four cellular phones before leaving with Shelly-Ann, a grade nine student.
The distressed father managed to free himself and raised an alarm, spurring residents to form a search party. However, the search was called off hours later when Shelly-Ann was not found.
But on Monday morning when the search reconvened, Shelly-Ann's body was found near a fully grown ganja field with her throat cut.
Grief was etched on the faces of the knot of people standing outside the police crime scene tape in the bushes on Monday, while a pall of gloom hung over the entire Frome Technical High School where classes had to be suspended about an hour earlier than usual.
The Observer was told that a female student, who is said to have been a good friend of Shelly-Ann, had to be given medical treatment after she collapsed on hearing the news of her friend's grisly murder.
Around the Web