Former long-serving Barbadian Prime Minister Owen Arthur last night said he found it disturbing that regional heads have failed to move in the direction of a regional response to the financial woes that engulfed CLICO since the Trinidad crisis though "it is a major regional financial conglomerate" with policy holders and investors spanning the Caribbean.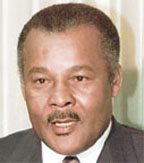 The national responses to the crisis that this week led to the liquidation of Clico (Bahamas) and the placing of Clico (Guyana) under judicial management are not the solution, but rather an integrated move by regional leaders who "failed to recognize that the financial troubles of Clico….require a regional rather than a series of national responses", Arthur said as he addressed the Rotary Club of Georgetown dinner at the Pegasus Hotel.
Arthur, who served as PM from 1994 to 2008, said that the [Clico] problem must be addressed immediately, noting that the financial enterprise which originated in Trinidad and Tobago now presents that country with a TT$10 billion threat to policy holders, and investors. This is the extent of the indebtedness which has so far been discovered in Clico (Trinidad).
Arthur, who it was thought lost last year's election only because voters wanted a change, referred to Clico's policy holders at large but made no specific mention of any outside of those in Trinidad. But Clico (Bahamas) collapsed on Tuesday and an order has been secured for the winding-up of the company. Subsequently, Clico (Guyana), which had a significant exposure to the Bahamas subsidiary, was placed under judicial management by the High Court here after government secured an order to freeze the assets of the company.
The former PM underscored the need for a concerted response saying that it will become impossible to justify enabling enterprises to have access to a common regional economic space if "the common problems caused to all by such enterprises are not addressed in a concerted and equally urgent manner by all affected countries acting in unison".
Arthur, who had lead responsibility for the Caricom Single Market and Economy, spoke broadly on the global financial crisis saying that it is far from over given the ineffective solutions that have been proposed, but as he narrowed his focus on the region and the financial woes that have rocked the financial sector, he criticized governments for not following up on a plan of action crafted back in 2007 at a Caricom Heads of Government meeting that called for a regional financial services agreement by December last year.
Because large conglomerates in the region continue to threaten the regional space as their own, he said, the region needs such an agreement, adding that unregulated financial institutions and systems have proven to be the biggest source of instability in modern economies.  Arthur made the point that Caricom is not immune from the effects of such disorder.
He said too, that it would be pointless or rather hypocritical for Caricom to call on the global community to put its house in order, without addressing serious deficiencies that are emerging in regional affairs. He pointed to a drift in the regional spirit; an inertia in regional affairs.
The former PM said that the Caribbean region cannot expect to escape unscathed from the "worst economic crisis in more than 50 years" and emphasized that regional cooperation must be placed high on the Caribbean's agenda as countries pool what they have to support each other in "these dangerous times".
From his criticisms Arthur emphasized the need for the region to act in unison on every single aspect that affects development, outside of simply focusing on the Caribbean Single Market and Economy (CSME) and committing to work together then. But even on the CSME, he said, the region has failed to demonstrate cooperation, noting that a year has basically elapsed without any real movement in that direction.
Arthur railed against economic liberalization and free markets that have gone unchecked for years saying that "it has led to the dismantling of supervisory and regulatory regimes which are required to support orderly development in critical areas of the economy" particularly to the financial sector.
He charged that no consideration has been given, as expressed in any statement by any major world leader, as to how the global financial crisis, "which has risen out of excesses in the developed world" will bear upon the fortunes of the world's most fragile and vulnerable economies.
Judicial management
On Thursday the High Court locked down the assets of Clico (Guyana) that escaped the ravages of the collapse of its sister company in the Bahamas. The assets are now under the supervision of the High Court, which has appointed Commissioner of Insurance Maria van Beek to manage its affairs as the government here scrambles to protect policyholders.
The court move was precipitated by the Supreme Court order in Nassau on Tuesday for CLICO (Bahamas) to be wound up. The Bahamas company at the time was holding 53% of the local company's assets and there is thought to be significant impairment.
With some $6.9 billion of its assets invested in CLICO (Bahamas) the local company faces possible liquidation, but President Bharrat Jagdeo said on Thursday that winding it up is just one of the options available to the judicial manager.  He said there is still hope that the assets can be recovered from the Bahamas company, and government is treating the assets as though they "are not yet lost".
Bail-out
Prior to these developments, the Trinidad Government bailed out several  CL Financial (the parent company better known as Clico) subsidiaries which were facing liquidity problems.  Trinidad and Tobago took control of some subsidiaries of CL Financial which included Clico (Trinidad) Limited, Clico Investment Bank Limited, CMMB and British American Insurance Company (Trinidad).
Comments
An electrical contractor of Enmore/Hope, East Coast Demerara, who was robbed and shot about 1 pm today at Foulis, ECD, is presently admitted in a stable condition at a private medical institution in Georgetown, the police said today.

The recent poisoning of 18 bearing coconut trees by persons at Hope Estate was today condemned  by Minister of Agriculture, Noel Holder.
The Guyana Police Force is informing members of the public that in order to facilitate activities relating to the Mashramani float parade 2018 the following intersections will be closed to vehicular traffic from 6:00h until the end of the days' activities;Camp Street & Thomas land Albert Street & Wooldord Avenue Sandy Bobb & Vlissegen Road Sandy Bobb & J.B Singh Barr Street & Vlissengen Road Dowding & Vlissengen Road Station Street & Vlissengen Road Lamaha street & Vlissengen Road Woolford Avenue & Vlissengen Road Woolford & J.B Singh Anira & Irving Streets Laluni & Irving StreetsThe Following roads will also be closed to facilitate the float parade; u  Crown & Irving streets u  Almond & Irving Streets u  Forshaw & Irving Streets u  Church Street & Vlissengen Road u  North & Vlissengen Roads u  Regent Street & Vlissengen Road u  South & Vlissengen Road u  Brickdam & Vlissengen Road u  Homestretch Avenue & Vlissengen Road u  Hadfield & Vlissengen Road u  Mandela Avenue & Vlissengen Road  

(Trinidad Guardian) Joint police and Defence Force patrol camps are remaining in East Port-of-Spain permanently and will be supplemented as necessary, Minister in the Office of the Prime Minister Stuart Young says.

Auditor General Deodat Sharma says that he is awaiting some information from Homestretch Development Inc (HDI) before he completes his investigation of the controversial billion-dollar D'Urban Park Development Project.