Belize Prime Minister Dean Barrow said citizen security in his country has deteriorated phenomenally owing to increasing street violence, which has now emerged as a huge social problem for his government, as is the case in several other Caribbean territories.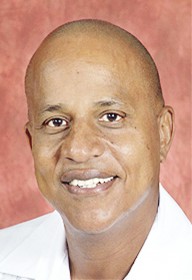 The murder rate in the Central American nation is "very disturbing" Barrow said, while pointing out that proportionately Belize was third in the Caribbean with respect to the numbers of murders per hundred thousand-population, coming behind Jamaica and Trinidad and Tobago.
The Prime Minister registered his concerns over the situation unfolding in his country in an interview with Stabroek News yesterday during a break at the 30th Regular Meeting of the Heads of Government of Caricom.
He said that crime is a huge problem, noting that it has its genesis in "the usual suspects" such as social deterioration, economic problems, and Belize's vulnerability to drug trafficking among other things.
In terms of combative measures, he said that Belize is part of the regional crime strategy and has been able to share "that experience of Caricom", and is working to tackle the problem. However, he stressed that things are "absolutely terrible".
He said Belize is also part of a wider strategy in Central America — the Merida Initiative. The Merida Initiative is a security arrangement between the US government and Mexico and Central America which is aimed at combating the threats of drug trafficking, transnational crime and money laundering. Recently, in Trinidad at the Fifth Summit of the Americas Caricom leaders had expressed a desire to join the Merida Initiative.
Speaking to what is fuelling the crime situation, Barrow said, the street violence or as he termed it the "gang warfare and turf beefs"  has caused the unprecedented murder rate in Belize.
He pointed out that innocent bystanders are often caught in the middle.
The issue of crime was expected to be addressed at the level of the Heads of Government Conference, but Prime Minister Barrow was unable to comment specifically on this given that the subject had not yet come up.
CLICO
The Prime Minister told Stabroek News that his country's economy survived the CLICO collapse which had a crippling effect across the region because of sufficient statutory reserves to cover everything that fell under the life and health portfolios.
But he said that there were some annuities which the reserve funds were unable to cover resulting in Belize "taking a hit". However, he said it has not been anything near as excruciating as it has been for Guyana and the Eastern Caribbean.
The Supreme Court of Belize made an order that the Belize Branch of the insurance company be placed under Judicial Management on May 30 this year, and to further protect the interest of policyholders, the court also ordered that no assets of the company are to be transferred.
The colossal collapse of CL Financial in Trinidad and Tobago triggered a series of meltdowns in its subsidiary CLICO across the region, affecting Guyana, the Bahamas, Barbados and Belize.
CCJ move
He disclosed that his government had introduced the first reading of the Bill in Parliament for Belize to accede to the jurisdiction of the Caribbean Court of Justice (CCJ) some two weeks ago, noting that the legislation requires a three-fourths majority which the administration has in the House of Representatives.
But because the Privy Council as the final appellate court is fundamentally entrenched in the constitution, his government is required to observe a 90-day period of public consultation which has started.
"We fully expect to accede… there does not appear to be any opposition to the move… so it should be fairly smooth sailing which means that we just have to [observe the] appropriate period and take the appropriate steps," he added.
Since its inauguration a few years ago only Guyana and Barbados have acceded to the jurisdiction of the CCJ as the final appellate court for both countries.
Honduras
Commenting on the situation in Honduras which is a close neighbour to Belize  Barrow said his country views what has happened there as illegal, and has joined with the international community in condemning the military coup that ousted President Manuel Zelaya. Consequently, his government does not recognize the interim government currently in place.
But according to him there is a sense the interim government is "softening somewhat" following interventions by the Organisation of American States (OAS) and that it appears to be leaning towards an arrangement for Zelaya to return and serve out his term in office.
"There is a hope that something will be done to resolve the issue sooner rather than later," Barrow said.
Regularly, there is a great immigration from Honduras into Belize and most of the Caribbean nation's seasonal banana workers are from its Latin American neighbour.
Comments
An electrical contractor of Enmore/Hope, East Coast Demerara, who was robbed and shot about 1 pm today at Foulis, ECD, is presently admitted in a stable condition at a private medical institution in Georgetown, the police said today.

The recent poisoning of 18 bearing coconut trees by persons at Hope Estate was today condemned  by Minister of Agriculture, Noel Holder.
The Guyana Police Force is informing members of the public that in order to facilitate activities relating to the Mashramani float parade 2018 the following intersections will be closed to vehicular traffic from 6:00h until the end of the days' activities;Camp Street & Thomas land Albert Street & Wooldord Avenue Sandy Bobb & Vlissegen Road Sandy Bobb & J.B Singh Barr Street & Vlissengen Road Dowding & Vlissengen Road Station Street & Vlissengen Road Lamaha street & Vlissengen Road Woolford Avenue & Vlissengen Road Woolford & J.B Singh Anira & Irving Streets Laluni & Irving StreetsThe Following roads will also be closed to facilitate the float parade; u  Crown & Irving streets u  Almond & Irving Streets u  Forshaw & Irving Streets u  Church Street & Vlissengen Road u  North & Vlissengen Roads u  Regent Street & Vlissengen Road u  South & Vlissengen Road u  Brickdam & Vlissengen Road u  Homestretch Avenue & Vlissengen Road u  Hadfield & Vlissengen Road u  Mandela Avenue & Vlissengen Road  

(Trinidad Guardian) Joint police and Defence Force patrol camps are remaining in East Port-of-Spain permanently and will be supplemented as necessary, Minister in the Office of the Prime Minister Stuart Young says.

Auditor General Deodat Sharma says that he is awaiting some information from Homestretch Development Inc (HDI) before he completes his investigation of the controversial billion-dollar D'Urban Park Development Project.