Joel Oswald Haynes of Regma Primary and Tianna Blair of Amelia's Ward Primary tied as the top students for Region Ten in this year's National Grade Six Assessment, both gaining 544 marks and securing places at Queen's College (QC).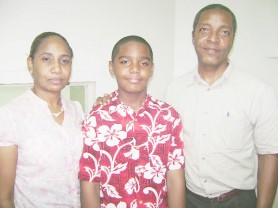 Haynes the son of Dr Joseph Haynes and wife Estherann, transferred from Green Acres Primary a year ago after his family relocated to Linden.
Haynes said he was confident that he would have secured a place at the country's top school. "For as long as I could remember I have been working for QC," he said. "I wanted so much to top the country but I don't know what happened."
Blair said she was working hard to beat her uncle who was among Region Ten's top five in the 80s. While she fell short of his score by seven marks she is nonetheless overwhelmed to have made it to QC. Trembling with excitement, she said, "All I can say right now is that I must thank God for helping me all the way." She also expressed gratitude to her parents, grandmother and teachers who were very instrumental in her success. Her father former national cyclist Godfrey Blair said he is very happy to know that his daughter stayed focused and studied. He said that she lives with an 80-year-old aunt; her mother resides in Barbados and he lives in Georgetown. He said while she was supported by his mother and other siblings who live close by Tianna had to remain focused to have made it.
Close on the heels of Haynes and Blair are Ashika John of Christianburg Primary who is third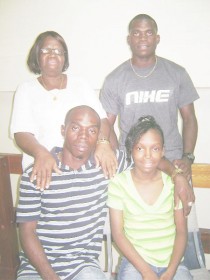 with 541 marks and Arlene Andries of Amelia's Ward primary with 540 marks. They both secured places at the Bishops' High School.
John was extremely proud and overjoyed to have done her school, parents and teachers proud. She said she is a firm believer in God and was confident that if she stayed focused God would have done the rest for her. "I prayed a lot and studied consistently throughout my school years. From prep A to grade six I was always at the top 3 in my class always in the 90s," she said. Ashika said it was this newspaper that called and informed that she was among the top four students for Region Ten. "Mom started screaming, 'thank you Jesus, thank you Jesus' and when I asked her what happened she told me the good news and I started screaming and shouting and praising God too." She said her mom was cooking and she turned off the stove because "at that time food did not matter anymore."
Andries was not available for an interview, but her head teacher said her performance in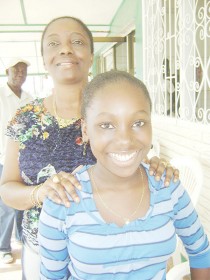 class was consistent. "I am happy to know that my school has two students in the top four for the region," she said. A class teacher was first to get the news and screamed uncontrollably. Everyone kept asking what had happened but it took her a few minutes to compose herself before sharing the news.
Amid the joy and celebration the children's parents and guardians expressed concern at having to relocate their children. Ashika John's mother Nichola John said she has no other choice but to have her continue her education in Linden at the Mackenzie High School since she is not willing to have her child travel the Linden-Soesdyke highway on a daily basis. Neither is she prepared to relocate her to Georgetown.
The parents of Haynes and Blair say they would have to do everything possible to ensure that their children reap the benefits of attending the nation's most senior secondary school.
According to Dr Haynes it is a sad situation since more often than not parents are forced to place their children at the most senior school in the area. "What is desperately needed is a home or hostel to effectively house and care for children who gain places at schools out of Linden." He said that he would be making every effort to ensure that Joel attends QC and that includes vigorously perusing the possibility in acquiring a facility and a capable house mother to care for children while in Georgetown.
Tianna's father said he would take her to live with him in Georgetown. He said it was a hard decision for him because Tianna was very supportive of her little brother who lives with her. "I am now thinking that I may have to bring him down too because it would be very hard to separate them and more than that she supported him with his work a lot.
And to leave him with an 80-year-old woman… boys will be boys… but I expected this day would come so I had started preparations. It is going to be hard but I know we will make it."
Comments
Swift action by the Law Enforcement and Investigation Division (LEID) of the Guyana Revenue Authority (GRA) aided in the removal of a large quantity of seized foreign chicken from two separate cold storage facilities in the Berbice area after it was discovered that the commodities were unlawfully being disposed of, the GRA said today.

Farha Faiz, a lawyer, speaks with the media after a verdict for the controversial Muslim quick divorce law outside the Supreme Court in New Delhi, India August 22, 2017.  

Defeat Tallawahs by 37 runs Chris Gayle, playing in his 50th CPL match, produced his 63rd T20 fifty as St Kitts & Nevis Patriots cruised past Jamaica Tallawahs by 37 runs to guarantee a place in the playoffs for the first time in their three-year history.

The Guyana Football Federation (GFF) has officially selected the Boys and Girls teams which will represent the nation at the Inter-Guiana Games (IGG) Goodwill Series scheduled for Suriname from the August 25th– 27th.