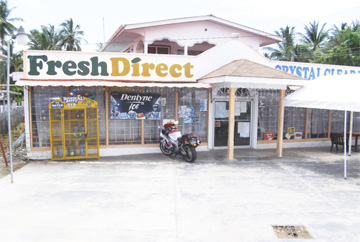 Six men armed with guns and wearing masks stormed a business place at Lot 15A Albion Front, Corentyne on Friday just after 11 pm, and left with some $7 million after battering the wife of the owner.
A police press release said they are investigating an armed robbery that occurred around 23:10 hrs on Friday at Albion, Corentyne, during which businessman Ganesh Prettipaul along with his wife and several customers were attacked and robbed by six masked men, five of whom were armed with firearms.
Investigations revealed that Ganesh Prettipaul and the watchman of his premises were standing outside his grocery shop and liquor restaurant when they were confronted by the six men who held them at gunpoint and took them into the building, the police said.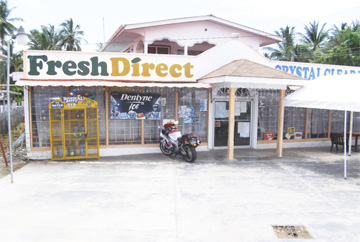 Three of the men remained in the business section of the building where a salesgirl and two male customers were held up, while the other three went to the dwelling area where they held up Ganesh Prettipaul's wife. She was beaten about her face and body by the men who then tied her up, after which they ransacked the home and reportedly took $2.4 million and US$13,000. Three cell phones, $11,500 and a quantity of personal jewellery were also taken away from the salesgirl and two customers after which the men escaped.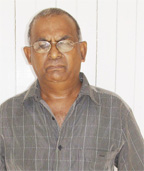 Meanwhile, a customer, Parmesh Ramdass told this newspaper, that he and some other men were drinking just after 11 pm when a group of men entered the shop from the side door and pulled out guns.  "Some get long gun some dem short one," he said adding that they told them to lie face down.
Their cell phones and other valuables were taken away from them. "Dem say if anybody move dem ago shoot awe. So everybody lie down," Ramdass said. Some of the bandits kept watch over them, while the others went inside. They used the "cue stick", he said, to beat a few of the persons who were inside the shop.
Ramdass said that because of the masks they wore he could not recognize any of the men.
According to Mrs Chandradai Prettipaul, wife of the owner of the business place, she was just coming from the bathroom, having taken a shower, when two men pounced on her asking her "for the money".
She told Stabroek News that she give them $700, not realizing that a robbery was taking place. The bandits pushed the money back to her, saying "nah this money,  more money". With this she told them to go to the cashier. But they had already taken what the cashier had.
One of the bandits then left to bring the cashier to her and Mrs Prettipaul said she started to scream to alert neighbours. It was then, she said, that the bandit began to batter her, hitting her with the gun butt and his hands to her face and mouth. One of the bandits shouted, "shoot she," she said, and the other one took aim, but did not pull the trigger.
The bandits then broke down the door to the upstairs, and took her, with blood spurting from her mouth, and the cashier upstairs with them. They ransacked the entire upstairs for over 45 minutes, she said, then left.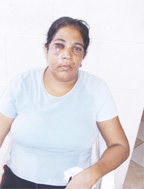 Mrs Prettipaul was subsequently taken to the New Amsterdam Hospital where she was treated and sent away.
Her husband, Ganesh Prettipaul said he was outside with a few friends, when he saw a group of men coming from through the street. He related that they appeared to be drunk as they seemed to be walking close together and staggering.
However, as they got to his business place, he said, they spread out and took out their guns. He said there were about 12 customers in the shop at the time when the bandits took him in and proceeded to beat him about his body with a cue  stick and put him to lie on the floor.
He said he had the feeling that some of the bandits were not strangers; that some were locals who knew the area well because the way they operated as if they knew where to look and knew who was who. He said the guard was the first to be taken.
However, Prettipaul said, business will continue until he makes a decision on the way forward. His business place was robbed once in 2006, but the police caught the bandits immediately because of quick response.
He said the money that was stolen on Friday night was from a business transaction that was concluded only a few days ago. "Through this loss my business is in stakes right now," he said.
Comments

Even as he posited that Guyana was unequally matched in negotiations with ExxonMobil and other multinationals, British Professor of Economics and Public Policy, Sir Paul Collier last evening cautioned against pulling back the contract with the US company and affiliates, saying it can spell doom for Guyana's investment climate.

-SPU representative says efficiency improved by 40-45% Photos by Dhanash Ramroop Grinding has resumed at the Enmore Sugar Estate factory in a bid to make use of cane in the fields and to attract prospective investors.

Fly Jamaica Airways crewmember Hugh Hall was caught with US$160,000 worth of cocaine taped to his legs after a flight, according to NBC news in New York.
The Cheddi Jagan Research Centre (CJRC) has accused the government of deliberately frustrating its work, after the Guyana Post Office Corporation (GPOC) failed to deliver on time an order of commemorative stamps to honour the 100th birth anniversary of the late President, Dr Cheddi Jagan.

A case management conference was yesterday morning held to set timelines for preliminary hearings ahead of the trial commencing in the challenge mounted by the Cheddi Jagan Research Committee Inc.