Solar fuelled cook-up a hit
Cooking a hot meal without the use of a stove or a flame during sunny weather may seem impossible to many but it is easy and the food may surprise one where taste is concerned.
Following a demonstration yesterday by  the Civil Defence Commission (CDC)   at its Thomas Lands Headquarters, this newspaper got a first-hand look at the process in which the food was cooked, an aspect of the CDC's disaster preparedness programme in which the central idea is to reduce carbon dioxide emissions.
The solar apparatus, called the Cookit, consists of a cardboard surface which is covered with insulated material, designed to trap heat from the sun. The cardboard surfaces stand at various angles to provide adequate heat around the pot, which is covered with a plastic bag to aid the heating process. The pot, which is then filled with ingredients for the dish, is then placed at the centre of the cardboard surface where cooking begins.
Yesterday's menu consisted of cook-up which was done in two varieties, black eye peas and split peas, both steaming for over an hour.
Following this process the pot was placed in another apparatus which consisted of two cardboard boxes, a small box being placed in a bigger box. The small box is strategically placed within the bigger box, padded by pieces of newspaper and straw.
According to Patricia McArdle of Solar Cookers International, a US based-company which pilots such alternative cooking means, the food is kept warm in this device for as long as 3 to 4 hours. McArdle said that the apparatus is ideal for emergency situations and is very affordable.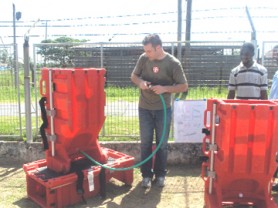 Following the cooking process,  the food was sampled by those present, including students of the Faculty of Environmental Sciences of the University of Guyana who took part in the demonstration. While some persons were hesitant to sample the two varieties, it was unanimously agreed that the popular dish turned out to be quite tasty.
Meanwhile, members of the media were briefed and given a practical demonstration on the use and benefits of a ReliefPod, a device which was designed to aid in the survival of persons affected by disasters. Joseph Molinaro, Product Director of Relief Pod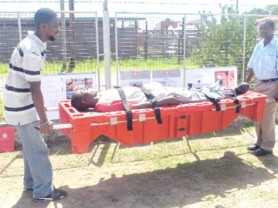 International LLC, the company which manufactures the device, said that the Relief Pod can be adjusted to be used  in various forms. The device can be used as a storage facility for food, first aid and water. In addition, Molinaro noted that the pod can also be used as a flotation device as well as for the transportation of injured or sick persons.