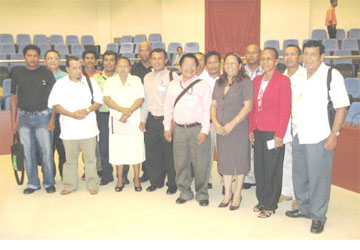 The Government Information Agency last night reported that twenty leaders from the various regions were elected before Amerindian Affairs Minister, Pauline Sukhai, to serve on the National Toshaos Council (NTC).
This was on day two of the National Toshaos Conference at the Guyana Inter-national Conference Centre.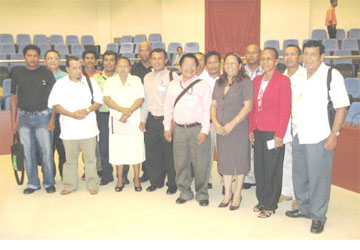 Those elected are as follows:
Region
One        Ernest Samuels
Bernard Laud,
Herbie Campbell
Two        David Wilson
Yvonne Pearson
Three        Reynold Samuels
Four        Ernest Dundas
Five        Derrick John
Six         Mc Lean De Vair
Seven        John Andries
Dhaness Larson,
Christopher Edwards
Eight        Julie Johnson
Maxwell Peters
William Peters
Nine         Michael Williams
Wilson Laurentino
Hidebrand James
Ten        Lester Fleming
Herman Williams
The newly elected council was urged to work in partnership even though finance is limited in some areas, GINA said.  The Ministry of Amerindian Affairs will provide the council with some financial aid until it becomes an independent organisation.
Comments

On Friday, the Ministry of Foreign Affairs concluded a five-day orientation programme for newly recruited Foreign Service Officers (FSOs), which was held at the Roraima Duke Lodge in Kingston.

HARARE,  (Reuters) – Robert Mugabe resigned as Zimbabwe's president on Tuesday a week after the army and his former political allies moved against him, ending four decades of rule by a man who turned from independence hero to archetypal African strongman.

Travis Cleveland c/d 'Spin and Kill', 31 years , unemployed of 337 South Sophia has been charged with murder of Jamal Munroe which occurred on November 03, 2017 at Black and White Bridge, 'C' Field, Sophia, ECD, the police say.

YANGON/NAYPYITAW, (Reuters) – Members of the U.S. Congress said today operations carried out against the Rohingya Muslims in Myanmar had "all the hallmarks" of ethnic cleansing, while the country's leader Aung San Suu Kyi expressed doubts about allegations of rights abuses.

The leadership of the Alliance For Change (AFC) is to formally write A Partnership for National Unity (APNU) on a revision of the Cummingsburg Accord which birthed the coalition and saw it winning the 2015 general elections.