-cocaine trafficker tells court after admitting guilt
"It still lil decent dan going and rob somebody," Oluki Ian Lewis told Magistrate Priya Beharry after admitting that he had swallowed several pellets containing cocaine when he appeared in the Georgetown Magistrate's Court.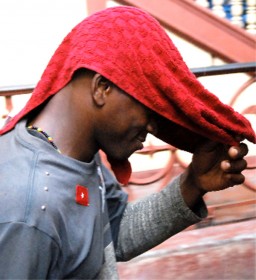 The magistrate sentenced Lewis, of Lot 18 Zeelugt North, West Coast Demerara, to four years imprisonment and imposed a fine of $30,000 on him for the crime.
The computer technician admitted swallowing the pellets before he was intercepted at the Cheddi Jagan International Airport (CJIA), Timehri by Customs Anti-Narcotics Unit (CANU) officers. He pleaded guilty to a trafficking in narcotics charge which stated that he had 1.82 kilogrammes of cocaine in his possession for the purpose of trafficking on August 16 at the CJIA in an attempt to export same.
CANU Prosecutor Oswald Massiah told the court that on the said day, at about 4pm, Lewis had checked in at the CJIA with the intention of travelling with Caribbean Airlines flight 460. As the man was "going through the process" a CANU officer on duty at that time observed him behaving strangely. Massiah explained that Lewis had "appeared uncomfortable" and so a CANU officer approached him.
He said suspicions were confirmed when Lewis was taken into custody and an x-ray was conducted on him. "He (Lewis) is a cocaine trader," Massiah said, adding that Lewis had swallowed 66 honey-coated pellets containing cocaine. He said the man admitted his crime after the X-ray and he was taken to the hospital where he was given a substance which aided in the excretion of the pellets. Massiah said that a sample of the pellets was taken by the analyst and that the remainder is in CANU's custody.
Massiah also told the court that some time this month Lewis had travelled to Venezuela and had brought back cocaine to Guyana. He said the man operated here as a trafficker. He also said Lewis told CANU officers that he was en route to St Martin and that "he would have been much richer in the sum of US$10, 000" if he had gotten there.
Lewis then told the court that he had accepted all that Massiah had said. When asked for a motive for his crime he told the magistrate, "At least um betta dan robbin somebody…look I aint trying foh rob no body and mek them uncomfortable. It still `lil decent."
Comments

WASHINGTON,  (Reuters) – A former senior official in Donald Trump's 2016 presidential campaign, Rick Gates, pleaded guilty today to conspiracy against the United States and lying to investigators, and is cooperating with a federal probe into Russia's role in the election.

(Trinidad Guardian)  "Dwight, I forgive you." So stated reigning Chutney Soca Monarch Neval Chatelal in an open letter to former T&T and Manchester United striker Dwight Yorke yesterday, following the repayment of a $250,000 loan.

The controversial Production Sharing Agreement (PSA) signed between the government and ExxonMobil's local subsidiary and partners is final and will not be subject to any changes, Minister of State Joseph Harmon said yesterday.

General Manager Holly Greaves yesterday said the National Insurance Scheme (NIS) is re-examining its investment in the Berbice Bridge after dismal returns over the past few years.
A gunman yesterday afternoon shot and robbed a senior CARICOM Secreta-riat employee after he left the Republic Bank (Guyana) Limited branch at Triumph, East Coast Demerara (ECD), in what is the most recent attack on the bank's customers.