-cocaine trafficker tells court after admitting guilt
"It still lil decent dan going and rob somebody," Oluki Ian Lewis told Magistrate Priya Beharry after admitting that he had swallowed several pellets containing cocaine when he appeared in the Georgetown Magistrate's Court.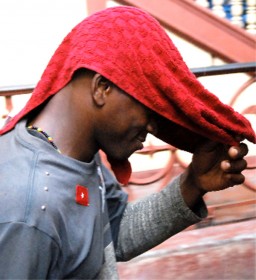 The magistrate sentenced Lewis, of Lot 18 Zeelugt North, West Coast Demerara, to four years imprisonment and imposed a fine of $30,000 on him for the crime.
The computer technician admitted swallowing the pellets before he was intercepted at the Cheddi Jagan International Airport (CJIA), Timehri by Customs Anti-Narcotics Unit (CANU) officers. He pleaded guilty to a trafficking in narcotics charge which stated that he had 1.82 kilogrammes of cocaine in his possession for the purpose of trafficking on August 16 at the CJIA in an attempt to export same.
CANU Prosecutor Oswald Massiah told the court that on the said day, at about 4pm, Lewis had checked in at the CJIA with the intention of travelling with Caribbean Airlines flight 460. As the man was "going through the process" a CANU officer on duty at that time observed him behaving strangely. Massiah explained that Lewis had "appeared uncomfortable" and so a CANU officer approached him.
He said suspicions were confirmed when Lewis was taken into custody and an x-ray was conducted on him. "He (Lewis) is a cocaine trader," Massiah said, adding that Lewis had swallowed 66 honey-coated pellets containing cocaine. He said the man admitted his crime after the X-ray and he was taken to the hospital where he was given a substance which aided in the excretion of the pellets. Massiah said that a sample of the pellets was taken by the analyst and that the remainder is in CANU's custody.
Massiah also told the court that some time this month Lewis had travelled to Venezuela and had brought back cocaine to Guyana. He said the man operated here as a trafficker. He also said Lewis told CANU officers that he was en route to St Martin and that "he would have been much richer in the sum of US$10, 000" if he had gotten there.
Lewis then told the court that he had accepted all that Massiah had said. When asked for a motive for his crime he told the magistrate, "At least um betta dan robbin somebody…look I aint trying foh rob no body and mek them uncomfortable. It still `lil decent."
Comments

On Friday, the Ministry of Foreign Affairs concluded a five-day orientation programme for newly recruited Foreign Service Officers (FSOs), which was held at the Roraima Duke Lodge in Kingston.

HARARE,  (Reuters) – Robert Mugabe resigned as Zimbabwe's president on Tuesday a week after the army and his former political allies moved against him, ending four decades of rule by a man who turned from independence hero to archetypal African strongman.

Travis Cleveland c/d 'Spin and Kill', 31 years , unemployed of 337 South Sophia has been charged with murder of Jamal Munroe which occurred on November 03, 2017 at Black and White Bridge, 'C' Field, Sophia, ECD, the police say.

YANGON/NAYPYITAW, (Reuters) – Members of the U.S. Congress said today operations carried out against the Rohingya Muslims in Myanmar had "all the hallmarks" of ethnic cleansing, while the country's leader Aung San Suu Kyi expressed doubts about allegations of rights abuses.

The leadership of the Alliance For Change (AFC) is to formally write A Partnership for National Unity (APNU) on a revision of the Cummingsburg Accord which birthed the coalition and saw it winning the 2015 general elections.