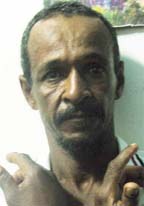 Quick action by the joint services yesterday including the employ of an army helicopter saw the rescue of kidnapped Novar, Mahaicony rice farmer and his worker before the $12 million ransom was paid and the arrest of three of the abductors.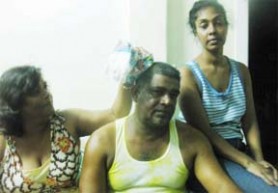 Parasram Ramnarace was grabbed around 8 am, beaten with a spade and tied up. His worker Patrick Skeete of Catherine, Mahaicony had been grabbed earlier around 2.30 am.
Reports are that the kidnappers took Ramnarace's cellular phone and contacted his relatives and demanded the ransom. However, while relatives arranged to take the ransom to the kidnappers, they also called the police who quickly mounted a team and surprised the kidnappers.
The police approached on the ground, while the Guyana Defence Force helicopter scoured the area. One of the men was caught in a tree and another among thick bushes. After Ramnarace and Skeete were rescued, a third man was held with a bag of wet clothes. A shotgun was also recovered.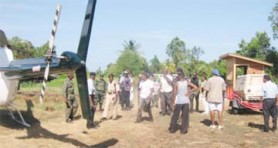 Police sources said they were also looking for two other suspects. The lawmen said too that the ones who were caught were not known to be involved in any illegal activity.
Police said in a press release issued last night that Skeete and Ramnarace had been kidnapped in the Abary backlands by five men. The police said Skeete, who was employed by the Ramnarace Brothers of Dundee, Mahaicony was grabbed first. Ramnarace, who went to the area later to make checks was then grabbed and relieved of $20,000, a gold ring and other personal items. Demands for a ransom were then made, the release said.
However, the police from C Division and Headquarters supported by the army quickly ended the hostage situation.
In an interview with this newspaper, Skeete, who had gone to the backdam since Tuesday afternoon, said that around 2:30 am he was pumping water when four masked men approached him and told him to get down on the ground.
They asked him if he had a cellular phone and he responded that he did not. They then searched his bag, telling him that if they found a phone they would kill him for telling lie.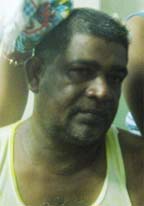 He said the men then placed a piece of wood on his hands and feet and bound him up while they placed the "tongue of an old boot" in his mouth and gagged him with a piece of cloth.
He said the men did not harm him in anyway but his hands and feet were bruised and swollen.
Skeete told this newspaper that the men then took him to a dam far from the camp where he stayed and inquired about his "bossman. I tell them that he gat to shy [apply] fertilizer but ah don't know what time he would come."
He said the attackers also asked him if his employer usually went to the backdam with a gun and he told them "no." They also told him that "is nat you we want; we won't do you anything when we done we job dem boys gon collect yuh later." He said the men then left him bound and gagged on the dam.
Just before 8 am, he said, he saw him Ramnarace passing along the dam in his pick-up and he tried to alert him. "But he couldn't hear me because the pump was keeping noise."
He said the men were hiding out close to the pump and he saw when the men walked towards Parasram with the gun. After that he heard the men beating his boss.
Some time later, he said, he saw the army chopper and the police in the area but they could not find him. He then managed to remove the cloth from his face and the wood that was strapped to his hands and feet.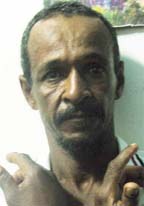 "Although my feet de tie and me hands de still tie behind my back, I hop and go to the vehicle" where some of the rescuers were and they untied him. They then took him "straight to the bush" where Parasram, who was already untied, was.
A few workers who had gone to the backdam around 7:30 am said they had heard Skeete shouting "Amar, Amar" (Parasram brother's name) but they did not pay attention to him.
They were also unaware of what was taking place until they saw the chopper and heard the "police licking shots from the dam [Letter 'T' Estate] coming in." They said they were afraid of being hit by "stray bullets" and left the area.
Meanwhile, sources informed this newspaper that the last man who was arrested was a resident of Enmore, East Coast Demerara, who reportedly confessed to being part of the kidnapping scheme. He was walking in the village shortly after police cracked the case when he was spotted by residents acting suspiciously. He was stopped, searched and a bag with wet clothing was recovered from his person. The discovery of the bag led to residents inflicting a beating on him.
Parasram, 37, recounted yesterday that he drove to his camp and found it closed, but did not suspect anything was amiss because he felt Skeete had gone to make a check in the fields. He recalled leaving his vehicle and walking towards the tractor/pump when he noticed a shadow. He thought it was Skeete and called out to his employee but got no response. Parasram said he got the urge to turn around and when he did he saw a man lunging at him with a "clipper blade spade". He explained that the weapon was made from a blade which had been on his tractor.
Initially, Parasram said, he thought his attacker was deranged and he called out to him not to strike him, but a blow subsequently connected to his head. He said the man beat him with the spade in his head, back and on his feet. The wound to his head started to bleed heavily. By then the other kidnappers had revealed themselves and they threatened to "open his head" when he enquired what was the reason behind the attack. They later threw water on his head wound.
He said the men asked for his brother, Amar who was in another rice field some distance away and said they wanted nothing to do with him because "Amar had big forces". Parasram said he understood that to mean that his brother had a lot of contacts.
The men then tied his hand and feet and blindfolded him. He recalled that they moved him away from the camp and he believed that he walked about half a mile along the dam before they stopped. While trekking along the dam, he said, he asked the men to untie one of his hands, which they did, but when he requested that they slacken the blindfold it was secured more tightly. He described the area where they stopped as a bushy place close to the creek. While there, he said, the men took his cellular phone, a wristwatch, a gold ring and $20,000.
According to him, they then asked him for $12 million to be delivered in two hours. The men handed him a second round of blows with the spade after he told them that he had no cash at home to pay the ransom.
They then insisted that he call home and inform relatives that he had been kidnapped, they again warned him not to contact his brother Amar. When the call was placed, he said, he spoke with another brother Brijdat before the kidnappers took the phone.
They then gave Brijdat instructions for the money to be dropped off. The plan was that the money would be taken to them by someone on a bicycle in the time requested. Parasram said his brother assured the men that the money would be paid. He then quickly contacted the police.
The lone member of the gang who had a gun decided to be the lookout man for the ransom so he went up to a tree and remained there, leaving the gun at base of the tree.
The men were later startled when the police turned up instead of Parasram relative.  Parasram was in high praise for the police saying that he is not sure what would have happened if they had not shown up when they did.
Comments

(Barbados Nation) Three Caribbean airlines have formed an alliance which promises to make it easier and cheaper for travellers to move between 32 countries.

To guard its independence and neutrality from political interference the National Toshaos Council (NTC) has developed a political neutrality statement that was adopted by the executive during its just-concluded executive meeting, says its Vice-Chairman Lenox Shuman.

The Police Office of Professional Responsibi-lity (OPR) has launched an investigation into a report of "seemingly massive irregularities" in the Guyana Police Force's learner driver's theoretical examination last Thursday at the Felix Austin Police College, Georgetown.

A US-based Guyanese, who became paralysed after being shot on the West Coast of Demerara in 2016, was stabbed to death on Tuesday in Brooklyn, New York.