-whistleblower protections being expanded
The Inter-American Develop-ment Bank has approved an action plan to help countries reduce corrupt practices, while bolstering whistleblower protections.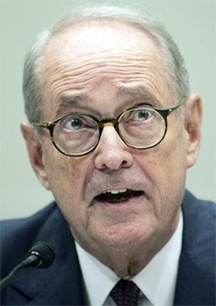 Moreover, the Bank has done a major overhaul of its anti-corruption framework to ensure that allegations of corruption in Bank-financed activities are investigated and sanctioned more quickly, an IDB   release stated yesterday.
The new measures, which build on an overhaul of the anti-corruption framework put in place in 2001, have been endorsed by the IDB's Board of Executive Directors, the release added.
Some of these measures took effect immediately, while others will be rolled out over the course of 2010.
In addition, the IDB is exploring ways to coordinate the sanctioning of prohibited practices together with other multilateral development institutions.
"In recent years, at the IDB we have been strengthening our efforts to deter prohibited practices in our own programmes, by investigating and sanctioning more cases of fraud or corruption," IDB President Luis Alberto Moreno is quoted as saying.
"At the same time, we are also ensuring that our staff abides by the highest ethics standards. With these new measures, we are taking our battle against corruption to an even higher level."
"We are also going to work more closely with countries to help them fight corruption more effectively," Moreno added.
"Corruption weakens democratic institutions, and discourages investment and job creation. Ultimately, it hits hardest the poor and those without access to proper legal recourse."
Recommendations
The IDB's anti-corruption framework was reviewed by an external group headed by Richard Thornburgh, former Attorney General for the United States and Governor of Pennsylvania. The report, presented in late 2008, included several recommendations to bolster the investigations and sanctions processes as well as actions to provide greater support to member countries to combat corrupt practices.
A number of those recommendations have been incorporated into the IDB's organizational policies and procedures.
In that regard, whistleblower protections are being expanded to include third parties. The Bank may notify national authorities when it receives allegations of reprisals by or against third parties involving Bank programmes; and the Bank's policy of protecting staff members from reprisals – including reassignment where needed – is also reaffirmed.
And the Office of Institutional Integrity (OII), which investigates allegations of wrongdoing and was previously a unit within the Bank's presidency, is now elevated as an independent advisory office within the Bank's basic organization.
To enhance the resources available to the sanctions process, the release said, the Bank has approved the creation of a new Case Officer position. The Case Officer reviews OII investigative findings and has the authority to sanction parties for wrongdoing, including a suspension from participating in Bank-funded programmes.
However, the Case Officer's recommendations can be appealed to the new Sanctions Committee, which for the first time will include external members (four), as well as Bank staff (three).
The Sanctions Committee will adjudicate cases previously considered by the Oversight Committee on Fraud and Corruption (OCFC), which was made up of senior Bank managers who had other responsibilities within the institution. The OCFC has been replaced by the Anti-corruption Policy Committee, which will focus on policy development and oversight of the Bank's anti-corruption initiatives.
Support for countries
In addition, the IDB has approved a new framework containing actions to strengthen the Bank's ability to identify vulnerabilities and support countries' efforts to foster transparency and prevent and control corruption.
The plan provides clearer strategic direction and added value to the Bank's financial, knowledge, and capacity-building products in these areas.
The IDB will allocate more budgetary resources to help countries better analyze and make a diagnosis of anti-corruption practices.
Working at the country, sector, and institutional level, the aim is to spot potential weaknesses early and identify opportunities to strengthen institutions.
For instance, the release explained, in its dialogue with national authorities that the IDB will strive to draft a joint work agenda to foster transparency and prevent corruption that is sustainable over time.
Institution-strengthening actions will be incorporated into Bank programme designs, and good practices and lessons learned will be disseminated through the Bank's knowledge products.
Meanwhile, the release noted that the previous anti-corruption framework was adopted in 2001. In 2004, the Office of Institutional Integrity (OII) was established to investigate allegations of fraud and corruption in Bank-financed activities.
As the system became known to Bank staff, executing agencies and the public, the number of investigations conducted by OII increased from 92 in 2004 to 150 in 2008. Last year alone the Bank sanctioned 25 individuals and eight firms.
In 2007, the Bank created the ethics officer position with responsibility for investigating allegations of ethics violations by Bank staff.  It also revised and updated the Code of Ethics and Professional Conduct, as well as the statement of interests programme for staff.
The Bank already has numerous tools to assess and detect potential instances of corruption in its programmes, including the Project Risk Management, the Red Flags Matrix in Project Procurement, and the Integrity Risks Review programme, the release added.
The IDB is a key financier of local programmes in a variety of sectors.
Comments

WASHINGTON,  (Reuters) – A former senior official in Donald Trump's 2016 presidential campaign, Rick Gates, pleaded guilty today to conspiracy against the United States and lying to investigators, and is cooperating with a federal probe into Russia's role in the election.

(Trinidad Guardian)  "Dwight, I forgive you." So stated reigning Chutney Soca Monarch Neval Chatelal in an open letter to former T&T and Manchester United striker Dwight Yorke yesterday, following the repayment of a $250,000 loan.

The controversial Production Sharing Agreement (PSA) signed between the government and ExxonMobil's local subsidiary and partners is final and will not be subject to any changes, Minister of State Joseph Harmon said yesterday.

General Manager Holly Greaves yesterday said the National Insurance Scheme (NIS) is re-examining its investment in the Berbice Bridge after dismal returns over the past few years.
A gunman yesterday afternoon shot and robbed a senior CARICOM Secreta-riat employee after he left the Republic Bank (Guyana) Limited branch at Triumph, East Coast Demerara (ECD), in what is the most recent attack on the bank's customers.