Dear Editor,
Over the weekend, I learnt with a heavy heart of the passing of Mrs Janet Jagan. Since then a lot has been said and written about her life, and the enormous personal and public sacrifices she made on behalf of her adopted country.
Her role has been and will continue to be dissected, questioned, and debated for generations to come.  When all is said and done, I sincerely hope the social and political commentators, historians and students will be objective.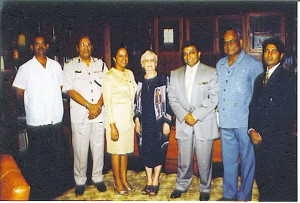 When I leant of her death, I was still reeling from and reflecting over the recent deaths of two very special Guyanese who had made enormous impacts on my life so far; Dr Joshua Reuben Ramsammy, principal at my alma mater (Tagore Memorial High School, at Number 63 Village, Corentyne) and Dr Roy Ibbott, impressive raconteur whom Rohit Jagessar and I had the pleasure of meeting and getting to know personally, while we were promoting the film Guiana 1838 in Berbice.
I knew Dr and Mrs Jagan, Nadira and Joey, since the mid 50s. I was at that period of my life boarding at the Millers whose home at the corner of Laluni and Oronoque streets was a stone's throw from where the Jagans resided in Queenstown. I was accepted as a close member of their household, a relationship that was never broken.
Many incidents stand out as I reflect on the private Mrs Jagan, a motherly individual I would call "Auntie Janet". Some scream out to be told, in order to deflect the political "pit-bull" image of this genuine "Guyanese".
She had so badly wanted to sign an affidavit of support in order for me to pursue my studies abroad. However, given the political climate at that time, she said words to the effect, "John, your request entry would be denied once the embassy recognizes your support sponsor".
Quite the opposite of what is today taken for granted, Mrs Jagan had enormous love for the sincere. I suffered a personal tragedy in the mid-90s, and when she learnt of it from Joey, hers was a most comforting shoulder.
At her insistence and at a date she chose, Ingrid and I got married at the Office of The President.  It was a first I was told. The ceremony was witnessed by President Janet Jagan, ex-Commissioner of Police Laurie Lewis, ADC Captain Francis Abraham, Mohammed "MFK" Khan, and Pastor Dr Dale Bisnauth.
Ingrid and I would see her for the last time on Sunday, February 15, 2009 at Table No 8, Browne's Café, at the Pegasus Hotel. We now sadly recall her seated embrace, the ever-present smile on her face, and her welcoming pecks on our cheeks; the cane at her chair, that tell-tale sign that "old age has yet its honour and toil: death closes all…"
I am sadly comforting myself as fortunate to have met a genuine servant of Guyana who, from the "get-go", in the words of a recent daily editorial, "lived a frugal life, shunning the trappings that would usually accompany the roles of President and Head of State."
To Joey, Nadira, and their families, Ingrid and I extend deepest condolences. We will today light two candles and place them in the pair of  © Correira Guyana, 1998 candle-holders, and take in the N. Nunes 1985 pastoral painting of a farmer and his wife on a donkey-cart returning home at dusk. All gifts from Auntie Janet!  We will also raise two cups from the tea-set she gave us, and wish her God's speed on her final journey.
Yours faithfully,
John "Slingshot" DrePaul
Around the Web