By Eion Jardine
The sport of boxing is filled with fascinating and dramatic human interest stories that reveal the essence of what boxing is all about character, endurance, strength, speed and above all, brains.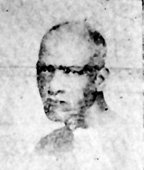 It is also about the triumph of the human spirit over adversity.
As an ardent fan and compiler of facts and stories of this nature it has been my great joy to compile stories and share them with my fellow boxing fans.
As I write I hope I am able to accurately convey the excitement of these happenings.
Have you ever read of one-armed boxers?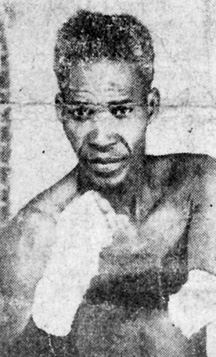 Guyanese `Knucka Han' Josie and Dutchman `Haffa Han' Boze or the Fighting Kid became the first one armed boxers to fight in Guyana.
They fought to a draw in a four rounder on October 10, 1946 at the Olympic Cinema in Georgetown.
Or what about Robert James Fitzsimmons?
Well he was the first British boxer to hold the heavyweight title of the world.
Fitzsimmons was born in Helston, Cornwall, England on June 4, 1862 but his family emigrated to New Zealand when he was just nine years-old.
He never returned to England.
Fitzsimmons learnt to box in New Zealand and Australia and was the first man in the history of boxing to win three world championships in three separate weight divisions.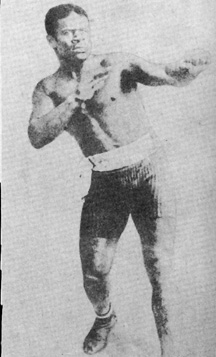 He won the middleweight title of the World on January 14, 1891 in New Orleans by knocking out Jack `The Non Pareil' Dempsey in 13 rounds.
Then on March 17, 1894 in Carson City, Fitzsimmons knocked out James. J. Corbette in the 14th round to win the World heavyweight title.
And, like good wine, on November 25, 1903 he won the light heavyweight world title defeating George Gardner in San Francisco over 20 rounds.
He was still a citizen of England at the time of his win over Corbett.
He died on October 22, 1917 in Chicago.
Joe Walcott became the first Guyanese boxer to win a World title when, on December 18, 1901 in Ontario, Canada, he knocked out James `Rube' Ferns in the fifth round to win  the World welterweight  title.
Walcott, who was born on March 13, 1873 in Demerara, British Guiana and emigrated to Barbados when he was 12 years old, got a job as a cabin boy on a ship which sailed to Boston, USA where he started to box.
He was also an amateur wrestling champion in 1887.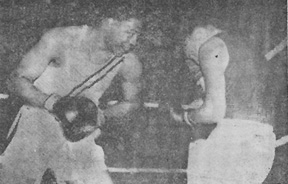 Walcott's career represents one of the greatest examples of the blurring of boundaries as he was embraced by Guyana, Barbados and America.
He died on October 1, 1935 and was later elected into the boxing Hall of Fame in 1955 and he remains the first and only Guyanese boxer to be inducted.
Walcott died before receiving his citizenship of the United States of America.
Guyana-born boxer Carl Crawford became the first Guyanese boxer to win a bronze medal at a Pan American games losing to Bob Foster at the 1959 games in Chicago.
Foster later went on to win the World light heavyweight title.
Dennis Andries is the first and only Guyanese boxer to fight in 24 title bouts.
He fought in nine world title bouts, 12 BBC, one EBU, one WBC Inter-Continental, one Continental of Americas.
Primo Canera the `Ambling Ape' born on October 26, 1906 in Sequals, Italy is the first former world heavyweight champion  to visit British Guiana.
He did so on October 28, 1934 along with his trainer William De Flour and stayed at the Park Hotel. He won the world heavyweight title on June 29, 1933 knocking out Jack Sharkey in the sixth round.
He joined the Italian sniper brigade and allies in 1945.
Canera died on June 29, 1967.
Glenn Ford, born November 30, 1973 became the youngest Guyanese boxer to win a local title when on December 26, 1991 he defeated Wayne Briggs over 12 rounds for the super bantamweight title of Guyana.
He was 18 years, one month old.
Al Brown is the second youngest to do so winning the title at 18 years, five months.
He now lives in England.
Frankie Grenaro, born August 26, 1901 in New York, became the first Olympic gold medal winner to win a World professional boxing title.
Competing at the Olympic Games in Antwerp in 1920, he decisioned E. Nielsen to win the flyweight division championship and an Olympic gold medal.
He later won the World, flyweight title on March 1, 1923 in New York, defeating Poncho Villa over 15 rounds.
He died December 27, 1966.
Dean Singh was the first Guyanese boxer to win the lightweight title of Guyana when he defeated  Freddo `Kid' Simmons by a six-round kayo on May 20, 1948.
In so doing, he became the first East Indian boxer to do so.
Clem Johnson, born January 1, 1894 at West Bank Demerara, became the first Guyanese boxer win the Mexican heavyweight title when on July 22, 1923 in Juarez, Mexico City; he knocked out Sam Langford, the `Boston Tar Baby' in 13 rounds.
He also fought Harry Wills, on September 29, 1922 for the coloured World heavyweight title losing by a kayo in 12 rounds.
He subsequently fought to a no decision in a 12 rounder with former world champion Tiger Flowers on November 27, 1924.
He died in New Orleans, USA in 1958.
Andrew Murray born July 1, 1971 became the first Guyanese boxer to win a Commonwealth title in London when he knocked out England's Tony Swift in the sixth round to win the vacant welterweight title.
He became the first Guyanese boxer to do so in 50 years.
He died on January 26, 2002.
Guyanese born Kid Leonard became the first professional boxer to die in Guyana when he was knocked out in the sixth round by Fighting Sharkey on July 24, 1942 at the Olympic Cinema.
Leonard, who was winning at the time, looked away for a second before he received the fatal blow.
George Foreman born January 22, 1949 in the USA became the first World heavyweight champion to win the heavyweight title exactly 25 years after he was born defeating Joe Frazier on his 25th birthday.
He also became with Joe Frazier, the first boxers to fight for the World heavyweight title in Jamaica.
Lionel Gibbs (father) Glendon Gibbs (son) and Pat Gibbs, (uncle) became the first father, son, and uncle to fight on the dame card on July 1935 at the BGFA ground all three boxers won their bouts.
Bunny Sterling became the first immigrant to win a British title. Sterling was born in Jamaica on April 4, 1948.
He won the British and Commonwealth middleweight titles on September 8, 1970 at Wembley Stadium in London, knocking out Mark Rowe in the fourth round.
Sterling fought for the first time as a professional in his hometown, Jamaica, on July 29, 1972 to a 10 round draw with the local boy Roy Lee. He retired in 1978.
Around the Web