-GCB boss Singh tells national cricketers
President of the Guyana Cricket Board (GCB) Chetram Singh yesterday urged the national cricket team to give of its best in the upcoming West Indies Cricket Board (WICB) regional four day competition and in the process, make the country proud.
"You have the talent, technique and qualities and that is why you have been chosen to represent Guyana in this four-day competition. I urge you to put your best foot forward as you execute your duties out there, making us proud," Singh said shortly before the team departed for Grenada yesterday morning.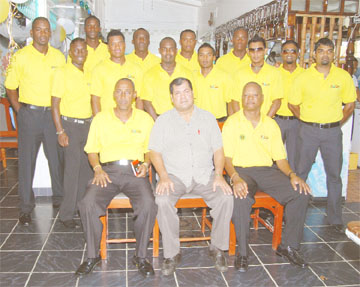 The longest serving WICB director took some time out from his busy schedule to meet with the 13-man squad at the Glow Hotel in Kitty.
"There is a lot of cricket to be played this year with the re-introduction of the home and away matches.
You have the opportunity to showcase your talent in these two away games, not only to your local selectors, but the regional ones as well, as there are a lot of vacancies in the West Indies team," Sing stated.
"WICB is presenting golden opportunities for young cricketers, especially you the debutants and I urge you to grab at it and make the best use of it. As you are aware, the senior players will be back after the first two rounds and they are guaranteed to play. So make the best use of this opportunity that is being presented to you" Singh added.
Weakest teams
Guyana will oppose the Windward Islands in their opening match from Friday in Grenada and, according to Singh, both the Windward Islands and Combined Campuses and Colleges (CCC) are easy opponents.
"In years gone by, some of our cricketers would already state that we have 16 points from our game against the Windward Islands.
I don't see any different this year and with the CCC in the fray also, to my mind these are the two weakest opponents for you, and there is no way you can come back after the first two rounds pointless.
"I know that the weather, which we have no control over, has hampered your preparations, but as I stated before, you are a talented bunch and even though three of our senior players in Shivnarine Chanderpaul, Ramnaresh Sarwan and Sewnarine Chattergoon are missing, I do expect you to go out there and do of your best," he declared.
The GCB head also charged the team to be disciplined at all times and reminded them that they were not only cricketers, but ambassadors for Guyana.
"Once you have discipline, you can go a far way not only in sports, but life on the whole. I would like to urge you to be disciplined at all times in everything that you do.
To this effect, the manager of the team is charged with the responsibility of leaving any player behind, who is even late for the team bus whether it is for a game or even a practice session," said Singh.
"You are not only cricketers from Guyana, but ambassadors of the country and as an ambassador, there are certain work ethics that must be displayed at all times and I am imploring of you to exercise same at all times."
Opener Shemroy Barrington, on behalf of the Travis Dowlin-led team, thanked Singh for his address.
Following the game against the Windward Islands, Guyana will take on the Combined Campuses and Colleges team at the 3W's Oval in Barbados.
The 13 man-squad reads: Travis Dowlin, Leon Johnson, Krishna Arjune, Shemroy Barrington, Steven Jacobs, Narsingh Deonarine, Royston Crandon, Christopher Barnwell, Darwin Christian, Esaun Crandon, Brendon Bess, Veerasammy Permaul and Devendra Bishoo.
The coach is Albert Smith, whilst Carl Moore will serve as manager.
Around the Web