The Demerara Cricket Club (DCC) was Friday evening presented with the Pepsi Cup and a cheque for $100,000 from Demerara Distilleries Limited (DDL) for their nail-biting win in the Pepsi-sponsored, first-division 40-overs-a-side competition.
The competition which was played from September 20, 2008 to the middle of December, saw DCC lifting the Cup by the narrowest  of margins from runners-up GNIC, winning by  a mere point.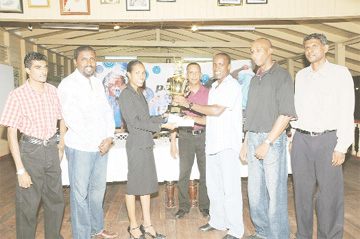 The final standings in the competition saw DCC finishing with 110 points to 109 by GNIC.
The unsung hero for DCC was Kevin George, who in the match against  Everest at the DCC ground, struck a six with the team needing four runs for a win off the final ball. At Friday night's presentation,  president of the Georgetown Cricket Association (GCA) Bishwa Panday, praised the DCC team  and also chairman of the Competitions Committee, Shaun Massiah, for what he called one of the better run round robin competitions, where some 28 matches were played.
The competition, which introduced the bonus points system,  saw some very competitive matches, which he said was  good for the game.
He called for such a format to be introduced countrywide in an effort to lift the standard of the game throughout Guyana. Meanwhile, DDL marketing representative, Alana Johnson who said she was able to watch  most of the action, said that the competition was a memorable one.
Johnson added that it was also a pleasure to work along with the GCA.
DDL, Johnson said, will continue to support any sporting activity where youths are involved.
"We will continue to support sports and youngsters" Johnson remarked.
DCC in their seven matches played lost only once to runner-up GNIC but still managed to squeeze home by the one point margin.
Around the Web