– GASA looking forward to participation at FINA's meet, congress

By Miranda La Rose
Finances and facilities remain strong drags in swimming but the Guyana Amateur Swimming Association (GASA) nevertheless proposes to build on its limited successes achieved last year and to take part in a number of local, regional and international meets starting this weekend says Honorary Secretary Dr. Karen Pilgrim.
The first of a series of club meets gets underway on Sunday at the Colgrain Swimming Pool on Camp Street.
Dorado Speed Swim Club will host Sunday's events, which would feature sprint events involving all age groups.
According to Dr. Pilgrim, the club meets are fun activities aimed at developing team spirit among local clubs while fostering healthy competition amongst all swimmers.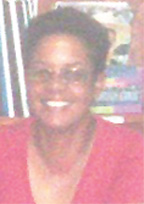 Silver Sharks Aquatics Club is billed to host the next club meet on March 8; followed by the Dolphin Swim Club on June 14 and in the final quarter of the year, the Orca Speed Swim Club meet on October 11.
GASA will host a two-day Mashramani swim meet on February 21 and 22 and it has proposed staging three 'Open Water Swim' meets using the country's natural waterways such as its rivers and lakes. The first is scheduled for April, another in August and the third meet in October with dates and venues to be announced.
Pilgrim noted that other Caribbean countries regularly hold Open Water Swim meets though Guyana is yet to get this activity underway much less to make it part of its national programme of activities.
She said that the success of Open Water swimming involves getting the cooperation of boat owners and fishermen who will follow the swimmers voluntarily or at a minimum cost. Dr Pilgrim said that GASA was disappointed previously when some who promised to assist failed to do so.  She hopes that this year there will be more participation by community minded persons. As a matter of safety, one boat is required for every three swimmers.
Asked whether GASA intends to invite participation by teams outside of Guyana in the Open Water meets, Dr. Pilgrim said that until it could be managed successfully locally with all the actors involved it would not be possible to invite foreign participation. Trinidad and Tobago and St Lucia regularly host open swim meets.
At the local level, too, the two-day Independence Gala is scheduled for May 16 and 17 at which the selection process for the 15th Goodwill Swim-ming Championships will be held. This precedes the three-day pre-Goodwill trials which would be held in July.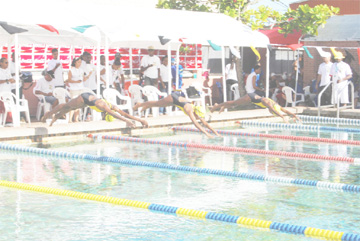 Barbados,  will be hosting this year's meet from August 20 to 23, which will include Guyana, Suriname and Trinidad and Tobago.
GASA will hold its annual national championships in November as has become its tradition over a four day period. Last year's national championships she noted saw greater participation than in recent years.
The association, too, she said was always willing to provide assistance to the Guyana Teachers' Union in its annual swimming championships once assistance was requested.
On the regional and international scene, Guyana is scheduled to take part in the CONSONAT (South American Swimming Con-federation) Championships which would take place in Mar del Plata in Argentina from March 26 to 30.
However, Dr. Pilgrim said that participation would be limited due to funding. "To some extent we are obligated to take part in this event since the championships are alternated each year between an open championship and a youth championship," she said noting that this year is the turn for the youth championship and Guyana has a few swimmers who have made qualifying times for the event.  This competition, she said, was a tough one but the exposure to a high-level continental activity she said would be good for the local swimmers. Much, however, would also depend on corporate sponsorship, she said, adding that the last time Guyana took part was in 2003.
GASA will also provide assistance to the Guyana team, which is expected to take part in the Inter-Guiana Games, which Guyana is scheduled to host in April this year.
Noting also that the junior Carifta Swimming Champ-ionship would be held in Aruba from April 15 to 20, she said that funding was still an issue.
However, she is still hoping that if Trinidad and Tobago charters a flight to Aruba that it allows Guyana to piggy back on its flight like it did last year.
The Rodney Heights Aquatic Swim Club Invitational will be held in April in St Lucia and the Amateur Swimming Assoc-iation of Trinidad and Tobago (ASATT) International/In-vitational meet in December.
In the past Guyanese swimmers have taken advantage of these meets to gain exposure and to secure qualifying times for international meets. Costs, however, are usually borne by the participants and participating clubs.
For the FINA (Intern-ational Swimming Feder-ation) meet to be held in Rome, Italy this year at which the FINA congress will also be held, it is expected that GASA, as a member of the international body, would be participating since some funding will be made available for four swimmers and a coach or technical official as well as for the attendance of the president of GASA, Phillip Walcott, or his representative to the congress.
"We are definitely looking forward to that," she declared.
Rating the performances of the swimmers last year as "good," Dr. Pilgrim added that GASA managed all local competitions in spite of difficulties in obtaining more pool time at the 25-metre Castellani Swimming Pool on Homestretch Avenue, which is under the control of the Office of the President.
"On the whole swimmers did appreciably better last year with Guyana obtaining its first Carifta medals and even though we did not move up in the rankings at the Inter-Guiana Games, we did well in spite of a weak female team," Dr. Pilgrim observed adding that participation and results at the ASATT invitational in T&T also had very good results.
GASA also successfully hosted the 14th Goodwill Championships with local corporate sponsorship for which she expressed the association's appreciation.
Although finances and facilities remain two of the major hindrances, Dr. Pilgrim was confident that to an extent, personnel required for managing effectively the activities of the association could be improved.
To that end, she appealed to past swimmers to get involved once again in the sport and to share their experiences with the younger swimmers as well as to assist in officiating in order to ensure the success of meets.
A major disappointment for the association was the fact that no phase of the 50-metre pool which is being constructed by the government was completed last year.
However, Dr. Pilgrim said she was hoping that work will resume on the facility as soon as possible.
Around the Web