Business executive and national hockey player Philip Fernandes has been returned as president of the Guyana Hockey Board (GHB) after a one year absence and has pledged to push Youth Development while plans are in train for Guyana to compete in the second Caribbean Hockey Championships billed for Jamaica  in June.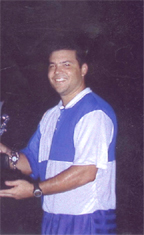 Fernandes, who did not seek re-election last year  after serving as president for four previous terms, offered himself up for election after outgoing president Timothy McIntosh did not seek re-election and there were no other nominations at the board's Annual General Meeting held Thursday evening at Georgetown Cricket Club (GCC) Pavilion.
Long-serving secretary Gregory Sills retained the position while the two vice-presidents are former national players Ivor Thompson and Rawl Davson.
Devin Hooper also re-tained the post of treasurer while Tricia Fiedtkou will serve as assistant secretary/ treasurer.
The committee members are Hubert Foster and Avonda James.
Fernandes, in an invited comment, told Stabroek Sport that the newly-elected officers will meet today at the GCC Pavilion to chart a way forward for the GHB.
He said there were  three priorities that will top the agenda at the meeting.
According to Fernandes, the big focus this year will be developing hockey among the schools. The GHB had also embarked on a Youth Training programme last year which was coordinated by McIntosh and Marc King, who has since migrated. The GHB also started a Junior Development programme in Linden under the guidance of Keith Gordon, a former Guyana Defence Force (GDF) first-division player. Fernandes said he would like to see more youths  participating in the sport locally and he is also encouraging clubs to boost their recruitment drive and to be more active in generating interest among school age children. He also disclosed that the Caribbean Hockey Cup which was introduced two years ago in Trinidad and Tobago will be played off again this year in Jamaica in June.
"We see our participation in this tournament as very important but will have to finalise arrangements," said Fernandes. Guyana men's and women's team took part in the inaugural event in the twin-island republic with the men's team claiming a creditable bronze medal while the women's team failed to secure a medal on their return to that level of competition.
The start of the 2009 season will also be discussed at the meeting but it is likely that the there will be competitions in the men's first division, men's second division  and women's open outdoor competition.
Today's meeting is scheduled to start at 12:30 hours.
Around the Web