Chetram Singh's innings as president of the Guyana Cricket Board (GCB) continued yesterday for its 18 consecutive year when he defeated challenger Bishwa Panday at the annual general meeting of the GCB at the Georgetown Cricket Club's pavilion.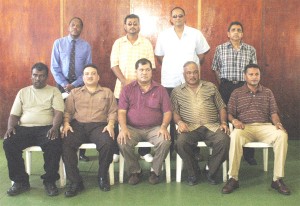 In an overwhelming show of support for his presidency by the electorate, Singh was voted back into the position he has held since 1991 by a 15-12 margin.
The defeat left the challenger disappointed but not bitter, he said, at the turn of events.
Going into yesterday's election, Panday seemed to have the race covered with the Berbice and Essequibo factions firmly in his corner.
"I'm naturally disappointed with the result," he told reporters afterwards.
"In horse racing terms I thought I had a good chance going into the race but there were some last minute switches which is par for the course in this kind of contest," Panday told reporters after his defeat. The 15 -12 win meant that Singh might have been able to capture six votes from Essequibo to go with his nine votes from Demerara.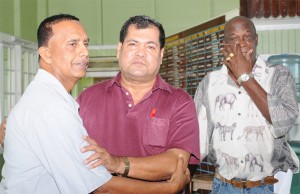 Panday's 12 votes might have come from Berbice (nine) and three from Essequibo.
Panday said afterwards that he respected the right of the majority to chart a new course.
"My own view is that it was time for a change but the majority of members did not feel so and I respect the right of the majority to chart their own course.'
He did not seek re-election to the post of secretary.
"I think I've served for a long time as secretary. I don't think I could have brought anything new to the table," he added.
Singh was magnanimous in victory and in a short interview with this newspaper, thanked Panday for his 25 years of service.
"He has been a good servant of Guyana cricket," he said.
Singh expressed similar sentiments about outgoing vice-presidents Malcolm Peters and Alvin Johnson and assistant secretary/treasurer Anil Beharry.
In the other contested posts Bissoondyal Singh gained 25 out of 27 votes while Fizool Bacchus gained 15 to become the new vice presidents of the GCB while Pritipaul Jaigobin defeated Beharry by 15 votes to 12 to become the new assistant secretary/treasurer.  All the other positions were unopposed.
Anand Sanasie is the secretary; Ronald Williams the assistant secretary; Sheik Ahmad the treasurer; Carl Moore the chairman of the competitions committee, Ramsay Alli, the marketing manager and Terry Holder the public relations officer.
Singh said the GCB will meet soon to chart a new course. He pointed out that there are new faces on the executive and stated that…"They might have more ideas, fresh ideas."
Panday was gracious in defeat.
"I wish Mr. Singh the very best. As I've said, he has given yeoman service to Guyana's cricket."
The returning officer was K. Juman Yassin, president of the Guyana Olympic Association.
Around the Web