Most of the executive members of the Guyana National Rifle Association (GNRA) are likely to return to office when elections are held on Wednesday at the annual General meeting of the Association billed for Bank of Guyana Roof Garden.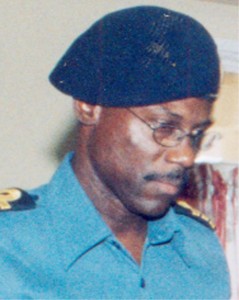 Chief of Staff of the Guyana Defence Force (GDF) Commodore Gary Best is the current president of the association and will be an automatic choice to retain the post as this has been the trend over the years with the head of the armed forces serving as president of the organization.
The incumbent vice presidents are Assistant Commis-sioner of Police, Paul Slowe and Attorney-at-Law Richard "Dickie" Fields who are also expected to be returned, sources within the GNRA disclosed.
Also likely to be retained are secretary Ryan Sampson, treasurer, newly promoted Lt. Colonel Terry Stuart and assistant secretary/treasurer Lancelot Khan.
Mahendra Persaud and Dale Hing are the full-bore and small-bore captains respectively and both have signalled their interest in serving another term.
The meeting, which starts at 6pm, will review last year's activities; while there will be reports by the secretary, treasurer and then the election of office bearers.
The GNRA had a successful year with the Guyana fullbore team capturing the Caribbean long and short range titles at the regional rifle shooting championships in Jamaica last year.
The small-bore shooters also performed creditably in regional competition while Paintball shooting competitions were staged with measurable success.
Preparation for this year's Caribbean full-bore championships billed for April in Trinidad and Tobago is expected to kick off this weekend at the Timehri Rifle ranges.
Guyana will only defend the small-bore title in the Twin Island Republic since there are no ranges over 600 yards.
The dates for the championships were announced earlier as April 10-17 but there could be a slight change in the dates due to Trinidad's hosting of the Summit of the Americas from April 17-19 in Port of Spain.
Around the Web