Part Two
By Eion Jardine
This is the second installment on the peculiarities of the sweet science.
You will, for instance read of the first and only deaf person who had a successful amateur and professional career; of Randy Turpin, Zack Clayton, Courtney Atherly, Trevor Arno, Jeff Dos Santos (Roberts) and others.
Mario D' Agata
For starters, have you ever heard of the deaf mute? Well, he was born in Arezzo, Italy where he is still regarded as a hero on May 29, 1926.
Mario D' Agata became a professional pugilist in 1960 in the bantamweight division and in addition to his disabilities, he was also shot in the chest by a business partner in Australia which cost him a shot at Raul Macias's World bantamweight crown.

After a successful amateur career which he embarked upon at the age of 20 and which saw him winning 90 out of 110 bouts, he joined the professional ranks on October 14, 1950 defeating Guiseppi Saladari on points in a six-rounder.
Three years later he was to finally reach the heights of his chosen profession when on June 29, 1956, he won a 15-round decision over defending title holder Robert Cohen in Rome to become Italy's first 118-pound champion.
Mario was deaf.
Jeff Dos Santos (Roberts)
Guyanese Jeff Dos Santos (Roberts) born June 7, 1958 became the first and only Guyanese boxer to fight in Chadfontaine, Liege, Belgium when he came in as a last minute substitute for Marc Clover against  Jean Marc Renard on June 6, 1987 losing by a TKO in two rounds. Dos Santos was the national bantamweight and featherweight champion between 1980-1983.
Zack Clayton
Who is Zack Clayton and what is it that makes him so unique?
Clayton is the former Pennsylvania State Athletic Commissioner. But what is unusual about Clayton is that in 1951 he became the first black man to receive a referee's license with the state of Pennsylvania. The following year he also became the first of his race to referee a world heavyweight title. That fight took place on June 6, 1952, in Philadelphia between Jersey Joe Walcott and Ezzard Charles. Walcott retained his title over 15 rounds.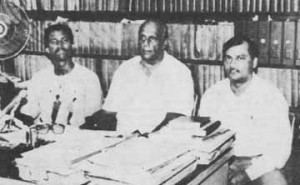 Ulric Regis
Trinidadian born Ulric Regis became the first boxer from his country to die in the ring after a boxing contest on March 15, 1969 in London, England in a heavyweight contest with British boxer Joe Bugner.
Randy Turpin
Randolph Adolphus Turpin born June 7, 1928 in England is the first British boxer with a Guyanese parent to win a world title.
He defeated the great Sugar Ray Robinson (Walker Smith) on points. Robinson was beaten only once before in 132 fights and lost his middleweight title at Earl's Court, on July 10, 1951.
Turpin's father, Lionel Fitzherbert Turpin, was born in British Guiana. He died in London in 1929.
He was the eldest son of John Matthew Turpin and Martha Turpin who lived in Alberttown.
Randy's three other brothers were Jackie, Robert and Dick Turpin.
Dick Turpin became the first black fighter to win a British title in 1948.
Randy died on May 17, 1966 when he committed suicide by shooting himself but not before shooting his 17-month-old daughter twice.
She survived and went home after 18 days. He was elected into boxing's Hall of Fame in 1969.
Courtney Atherly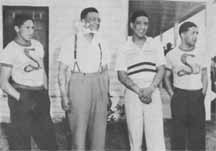 Guyanese Courtney Andrew Atherly born February 8, 1948 became the first Guyanese boxer to win a bronze medal for Guyana at the 1970 Commonwealth Games held in Edinburgh, Scotland.
He went on to become Guyana's first and only international amateur boxing association (AIBA) qualified referee.
He compiled one of the most outstanding records as an amateur boxer being national champion in the flyweight, bantamweight and lightweight divisions. His career as a boxer started in 1867 and ended in 1974. During that period he was never defeated at home. He died on November 20, 2000 after falling down a flight of stairs.
Trevor Arno
Trevor Edmond Arno became the first Guyanese boxing judge to officiate in a World Boxing Council (WBC) Fecarbox title bout overseas. He did so on January 17, 1992, in French Guiana between Jacobin Yoma and Wilson Fontalvo. Yoma won the super featherweight title by a TKO in six rounds. Arno has judged in 259 professional bouts which include four world titles bouts, five WBC Fecarbox and one Commonwealth title bouts. He was also the longest serving secretary of the GBBC from 1986 -2007 serving under three presidents.
On February 7, 1979, the first boxing promoters' union was formed at boxing promoter Khemraj Singh's home. The union held its first meeting on February 14 at the Tower Hotel.
Singh was elected president, Colin Rodney and the late David Bacchus were the vice presidents, Stanley Boyce was the secretary and Mike Correia the treasurer.
Carl Crawford
Guyanese Carl Crawford became the first Guyanese boxer to box at an Olympic Games. Crawford lost in his second bout to Poland's Zbignew Pietrzykowski on points in a light heavyweight bout.
Cassius Clay (later to be known as Muhammad Ali) went on to win the gold medal by defeating the Pole at the 1960 Olympic Games in Rome.
One year before that Crawford won the Sportsman-of-the-Year award.
Ezzard Charles
Ezzard Mac Charles `The Cincinatti Cobra,' was born on July 7, 1921, in Georgia, United States of America.
He won 10 national amateur championships bouts and never lost in 42 amateur bouts from 1937-1939.
In 1937 he won the Diamond Belt welterweight championship and   the State AAU championship.
In 1938 he won the Diamond Belt, the Golden Gloves welterweight and the AAU championships.
In 1939, he won the Diamond Belt middleweight championships, the Golden Gloves championships, and the State AAU middleweight championships. He also won two national amateur middleweight titles and won every amateur tournament he ever entered. He also scored a two round kayo over Dan Fly the amateur national champion on Canada.
He died on May 27, 1975 in Chicago.
Ann Howard and
Stephanie George
Ann Howard and Stephanie George became the first two Guyanese female boxers to be issued with pro boxing licenses to box in Guyana by the Guyana Boxing Board of Control on November 27, 1998. They had their first bout on December 4, 1998 at the Thirst Park ground Banks DIH with George winning by a four round decision.
Around the Web