BY Tony Cozier
(DURING his recent assignment covering the West Indies tour of New Zealand, Tony Cozier caught up with Simpson Guillen and Bruce Pairaudeau and found that the two former West Indies Test players still had fond and vivid memories of their playing days in the Caribbean)
Simpson Guillen sat in the drawing room of his home in Christchurch and, in his deep baritone voice and with appropriate accent and inflection, belted out every word and verse of the 1940s calypso, "Chinese Cricket Match," as if it was yesterday.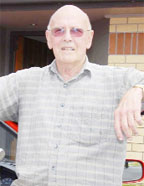 In my hotel room in Hamilton, Bruce Pairaudeau did the same with a jingle specially composed by Lord Melody for the insurance company where he worked in his youth in Georgetown: "Hand-in-Hand Fire Insurance/Ah warning you this is your last chance/Run down and insure your property/When the fire start, don't complain to me."
It is 57 years since Guillen, universally known as "Sam," took the boat from his native Trinidad and headed for New Zealand, 50 years since Pairaudeau followed the same route from Guyana.
Both were so enchanted by the beauty of the country and the opportunities it offered on two separate West Indies tours that they returned to make it their homes.
Guillen emigrated, aged 28, after his experiences on the 1951-52 tour that followed on from an earlier visit to Australia.
Pairaudeau arrived two years after he opened the batting in the four Tests there in 1956.
Guillen, at 84, Pairaudeau, at 77, are living proof that, as one of Guillen's favourite calypsonians, the Mighty Sparrow, puts it, age is just a number.
They have kept mentally sharp and as trim, if not quite as mobile, as they would have been in their youth. Both are avid golfers although neither would reveal their handicaps.
Given the chance, as our meetings did, they recall scores and recite incidents of their heyday in West Indies cricket with passion and clarity.
Although they have returned only a few times, notably in 1996 when the West Indies Cricket Board (WICB) honoured all its former Test players in Kingston, the influence of the Caribbean is undeniably strong.
Guillen, who himself composed appropriate calypsos on the 1951-52 tour and on rugby in New Zealand,  numbers most of Sparrow's CDs in his collection
They still follow West Indies cricketing fortunes but are understandably disheartened at their decline.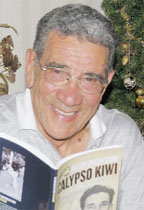 And, as Guillen explained, he doesn't have the same connect with West Indies teams that come to New Zealand as he once did.
"I suppose it's what you call the generation gap," he said. "The older I get, the younger the players seem to get. They somehow seem to think those of my vintage are old fogeys who don't know what they call the modern game but the basics don't change."
It is obvious that he and Pairaudeau found what they expected to find in New Zealand. They married New Zealanders (Guillen's wife of 53 years, Val, was, like him, a wicket-keeper), raised families and built good lives in their adopted homeland.
Cricket inevitably opened many doors and they made the most of the welcome.
As he was for Trinidad and the West Indies, Guillen soon became a consistent performer for Canterbury for several seasons in the first-class Plunkett Shield.
His 400 runs at an average of 80 helped Canterbury to the championship in the 1955-56 season and led directly to his selection a few weeks later to the New Zealand team for three Tests against the touring West Indies. It made him one of the 13 players, and the only West Indian, to represent two countries in Tests.
"Don't forget to tell them how I stumped Alf Valentine to complete New Zealand's victory in the last Test," he directed. "It was New Zealand's first ever Test win, if you remember."
There was a lot more he mentioned that I shouldn't forget to tell readers but there isn't space enough in this newspaper to fit it all in.
Guillen had played with and against most of the West Indies players back in the Caribbean and, with some of the older ones like Everton Weekes, Denis Atkinson, Sonny Ramadhin and Alf Valentine in the 1951-52 team.
"When I came out to bat, all the West Indies boys gathered around, raised their caps and raised three cheers," he recalled. "Words can't explain how I felt."
It was a rare acknowledgment for someone seldom at a loss for what to say. He put it all down in words four years ago in his autobiography, "Calypso Kiwi", a fascinating account of his life and the game in his two countries during his playing days.
The late Gerry Gomez, a team mate at Queen's Park Club, Trinidad and the West Indies, described Guillen in his foreword as "one of those rare characters who had the ability to amuse without offending decorum and his general nature was always kind-hearted, generous and cheerful".
Nothing has changed.
While Guillen settled in New Zealand's South Island, Pairaudeau chose the North, in the city of Hamilton, an appropriate location since that is his given second name.
He was a teenaged prodigy for British Guiana, as it then was, scoring the first of his 11 first-class hundreds, 130 against Jamaica at Bourda in 1947, aged 16.
In a golden era of West Indies batting, he had to wait until 1953 before he finally got a place in the Test team. He marked it with 115 in his debut innings, against India at the Queen's Park Oval, sharing a partnership of 219 with Weekes.
He never touched such heights in 12 more Tests, ending with an average of just 21, but, once he emigrated in 1958, he had a significant impact in New Zealand.
With Bert Sutcliffe, one of New Zealand's finest batsmen also in the team, he made regular runs for Northern Districts and captained the province to its first Plunkett Shield title in 1962-63. His name remains etched on the Bruce Pairaudeau Trophy for the under-19 tournament in Hamilton.
Guillen's family has a strong cricket background. His father, Victor, and brother, Noel, played for Trinidad; Victor umpired at regional level and officiated in one Test in 1948. His great nephew, the left-handed opener Justin, made his debut for Trinidad and Tobago this season.
But it is his grandson, Logan van Beek, who he expects to emulate his own all-round sporting talent that, as he laughingly recalled, earned him several apt nicknames in Trinidad – the Fin, Bullet Foot, One Punch.
Logan, son of Sally, one of Sam's four children, was one of the leading all-rounders in the New Zealand under-19 cricket tournament earlier this month but had to decline national selection because he was already in the New Zealand Under-19 basketball squad for the forthcoming world championships in Auckland.
There is sadness to Pairaudeau's otherwise fulfilled life in New Zealand.
He and his wife, Gillian, had to overcome the drowning death of their daughter, Toni, a rising table-tennis star, a few years ago. Thankfully, Their son and three grandchildren live not far away.
Both Guillen and Pairaudeau look back on their cricket careers with nothing but satisfaction.
Guillen summed it up in the last sentence of his autobiography: "I count myself as one who was fortunate and privileged to play alongside or against some of the greatest players the game as ever known."