Former national under-19 cricketer Alfred Mentore was last evening elected president of the Georgetown Cricket Association (GCA) at its annual general meeting at the Georgetown Cricket Club (GCC) pavilion.
Mentore succeeded outgoing president Bishwa Panday who did not seek re-election.
Mentore, a previous vice president of the GCA, received the unanimous backing of all 25 eligible voting members.
Panday, who recently lost his bid for the Guyana Cricket Board (GCB) presidency, had announced prior to yesterday's elections, that he would not be seeking another term in office and yesterday disclosed that he was leaving the GCA coffers with over a million dollars.
The two vice-presidents are former national player Neil Barry and first class player Surendra Hiralall, both new faces on the GCA executive.
Salim Baksh was returned unopposed as secretary while the assistant secretary is Theresa Pemberton, the only female on the 11-member board.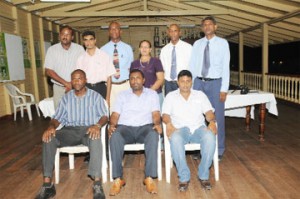 Harry Parmesar was returned as treasurer with Dennis Wilson as his assistant while Shaun Massiah was returned as chairman of the competitions committee.
Lance Hinds, another newcomer, was elected marketing officer while Adam Harris is the public relations officer.
The auditors are Barcellos/Narine and Company.
Mentore said he plans to meeting with the GCB top brass to have a representative GCA team participate in the Inter-County competition.
Mentore also wants to have paid coaches attached to clubs around Georgetown with the initial aim being to have five coaches on the GCA payroll by year-end.
Around the Web