The entire executive of the Guyana National Rifle Association (GNRA) was returned unopposed when that body held its annual general meeting Wednesday evening at the Bank of Guyana Roof Garden.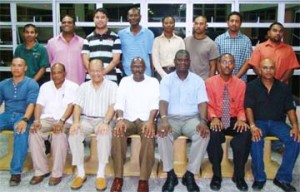 Chief-of-Staff of the Guyana Defence Force (GDF) Commodore Gary Best will once again head the association with Assistant Commissioner of Police Paul Slowe and Attorney-at-Law Richard Fields the vice presidents.
In his acceptance speech, Commodore Best pleaded to work assiduously to acquire a plot of land to build a clubhouse and state-of-the-art indoor range for the association.
The GNRA has over the years made attempts to acquire a plot of land and was even promised a section of the D'urban Park as part of the multi-sports complex which has since been shelved.
The GDF top brass disclosed that he had initial discussions with the newly appointed Minister of Housing and Water Irfaan Ali and there will be follow up talks to secure the land so that construction of the clubhouse could begin.
Secretary of the GNRA, Ryan Sampson, in his report disclosed that 2008 was a very successful year for the GNRA with Guyana's fullbore (rifle) shooters securing the Caribbean Rifle shooting championships in Jamaica, while the smallbore (handgun) shooters were active in competitions both locally and overseas.
He added that membership of the association grew by 25 percent and efforts were being made to push the recruitment drive even further through the recently established website of the GNRA.
Sampson said the major projects for 2009 include the acquisition of land for the clubhouse, improve the Timehri ranges to international standards, work on stringent training programmes for both full-bore and small-bore shooters and organizing  several fund raising activities.
He said that Paintball shooting continued to attract increased participation but expressed disappointment at the association's inability to attract participants from clubs from around the country. He disclosed that several shooters based in Berbice, Essequibo and Bartica had shown an interest in joining the association but this had since subsided.
Both fullbore and smallbore captains Mahendra Persaud and Dale Hing praised the performances of their sections during 2008.
Perdaud expressed gratitude to his successful team at last year's regional championships in Jamaica and indicated that 2009 will be another busy year for fullbore shooters.
Hing on the other hand disclosed that the smallbore shooters performed creditably at a regional tournament in neighbouring Suriname and indicated that shooter Murtland Smith held his own against top competition at IPSC shoots in Barbados and St. Lucia.
Those returned to office were Commodore Gary Best, president, Assistant Commissioner of Police Paul Slowe and Attorney-at-Law Richard Fields, vice presidents,  Ryan Sampson, secretary,  Lt. Col. Terry Stuart, treasurer,  Captain Lancelot Khan, assistant secretary/ treasurer,  Mahendra Persaud, fullbore captain,  Dylan Fields, vice-captain, Dale Hing, smallbore captain, Joseph Chin, vice captain, Hemat Narine, Ransford Goodluck, Mohammed Qualander,  committee members,  Captain Samantha Chung and David Dharry, auditors.
Around the Web