Top national cycle club, Roraima Bikers will roll off its calendar of events for 2009 with back-to-back races on February 7 and 8 at the National Park and on the East Bank Public road respectively.
According to president of Roraima Bikers, Brian Allen, "We will begin the season by paying respects to one of Guyana's cycling icons, the late George Cumberbatch, former vice-president of Roraima Bikers Club and member of the Guyana Cycling Federation."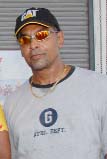 The event on  February 7 at the inner circuit of the National Park is being sponsored by George Humphrey of Humphrey's Bakery and Farm Products and Clifford `Toto' Johnson.
There will be two 10-lap races for categories 1, 2, 3 and 4 cyclists along with a 10-lap race for juveniles/juniors and the feature 30-lap open race with 12 cash  prime prizes up for grabs.
And the next day, Sunday, the Tony Chung Auto Repairs Road Race will pedal off at 8:00am from the Ruimveldt Arch on the East Bank Public Road and go to the East Bank/ Linden-Soesdyke Highway junction before returning  to finish at the starting line.
This event, the first road race for 2009, is being sponsored by Tony Chung Auto Repairs of New York and Humphrey's Bakery & Farm Products.
Cash prizes will be awarded to the first 10 finishers while there will be six sprint prizes.
According to Allen, both events are expected to be quite competitive as all of the active cyclists are expected to be at the starting line, including the top seniors.
Among the favourites for the two events are Alonzo Greaves, Warren McKay, Junior Niles and Robin Persaud.
Meanwhile, Darren Allen and Tyrone Hamilton will lead the charge for Roraima Bikers.
Cumberbatch, popularly known as `Boy Blue', dominated local and regional cycling during the  1955-1965 period with his speed and determination and was a vice president of Roraima Bikers Club and an executive of the Guyana Cycling Federation at the time of his death at age 71.
Around the Web