Former umpire Compton Vyphuis was laid to rest Friday afternoon, following a simple ceremony held at the Church of God in John Street.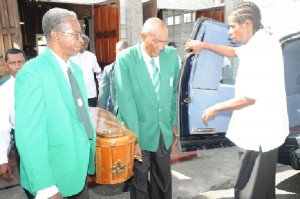 The 76-year-old Vyphuis, who died on January 23 after a period of illness, had officiated in six Test and two limited overs internationals, and was a former president of the Guyana Cricket Umpires Council (GCUC), serving that organization for 58 years.
In paying his tribute to Vyphuis, president of the Guyana Cricket Board (GCB) Chetram Singh stated that his death was a major loss to the cricket fraternity, and he also expressed his condolences to the family.
Moving tributes were also paid by International Cricket Council (ICC) Elite umpire Billy Doctrove, who in a message read by president of the Georgetown Cricket Umpires Council (GCUC) Grantley Culbard said, "It seems as though our senior umpires have seen enough and gone to form an elite panel in heaven."
Vyphuis, who was also  known as 'Tattie' and attended the Carmel Roman Catholic School, also loved dancing apart from umpiring and being an ardent cricket fan, travelling throughout the Caribbean to officiate in first class matches.
Former West Indies all rounder Roger Harper, his brother Mark, former ICC umpire Eddie Nicholls, president of the Guyana Cricket Umpires Council (GCUC) Colin Alfred and national selector Lennox Hunte were among those who gathered to pay their last respects to Vyphuis.
He was laid to rest in the Le Repentir Cemetery.
Around the Web