Noel Adonis was yesterday re-elected president of the Guyana Rugby Football Union (GRFU) when that organization held its annual general meeting (AGM) in the annex of the Guyana Motor Racing &Sports Club (GMR&SC) building.
After his re-election Adonis expressed his willingness to continue the union's efforts with support from the rest of the rugby fraternity to take the sport forward.
He also said the GRFU would have to overcome some set backs which include the resignation of two Development Officers one of whom also doubled as coach of the women's 15s team.
"We are going to work toward bigger and better things this year. We firstly have to start looking at our players and funding for the upcoming International tournaments scheduled for June and July and onward which will not be hosted here in Guyana," Adonis stated.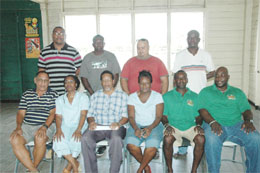 "The main issue we have to deal with is keeping players interested in rugby and also recruiting and keeping new players for the development of the sport for the future," he added.
The GRFU also plans go to the schools to unearth whatever talent might be there and develop it.
This he said can be done with the help of development officers and through the hosting of rugby competitions for schools. In other results Robin Roberts retained his position as senior vice president while  John Lewis defeated  Charles Greaves for the post of junior vice president.
Curtis Jacobs will continue as secretary while Wayne Austin is the new treasurer replacing Leonardo Butcher who has been appointed assistant secretary/treasurer.
Troy Yhip and Cornel Millington were elected as public relations officer (PRO) and match secretary respectively while Simone Jacobs, Roxanne Alleyne and Clinton Clarke are the committee members.
Around the Web