By Eion Jardine
(The first in a series of articles which looks at Guyana's involvement in boxing at the Commonwealth level and the champions spawned as a result)
The Commonwealth of Nations or the British Commonwealth comprises an association of some 53 independent sovereign states.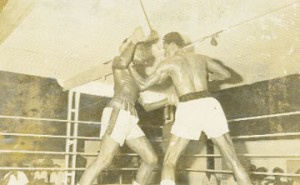 Most of those states are former British colonies or dependencies of those colonies. Guyana (formerly known as British Guiana) was a British colony until this country gained its independence on May 26, 1966.
In boxing, the British Empire and Commonwealth Championship Committee was formed on October 12, 1954 some 12 years before this country gained independence.
Previously there was no official body and the Australian and British promoters virtually ran the show with other members of the British Empire mainly out in the cold.

On September 8, 1970, Bunny Sterling became the first immigrant to win a British title under the country's 10-year residential ruling.
The British Empire and Commonwealth Champion-ships Committee was reconstituted as the British Com-monwealth Boxing Cham-pionships Committee on November 22, 1972.
In 1989 the `British' tag was dropped and today it is now known as the Common-wealth Boxing Council and has its own ranking and rating system which governs
Countries such as Australia, The Bahamas, Ghana, Jamaica and Guyana.
Although there were Commonwealth champions since 1887, Guyanese boxers only started to compete in the 1940s.
They fought for the title 26 times, with 19 fighters and only managed to win the coveted title on six occasions.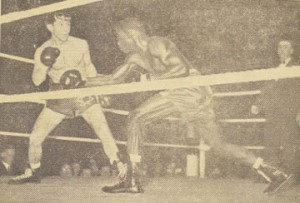 William Richard Adrian
The first person was William Richard Adrian (Kid Tanner) who was born on March 16, 1916 and was rated number three in the world when he fought Jackie Patterson on March 11, 1940 for the vacant Commonwealth (British Empire) flyweight title losing on points over 15 rounds in Manchester, England.
He also fought in Dundee, Scotland on February 11, 1941 losing to Jim Brady on points for the vacant Com-monwealth (British Empire) bantamweight title.
Tanner died in London in 1963 at 53 years-old with a record of 150 fights. He won 87 and lost 56 with 32 kayos and five draws.
Clifford Matthew Anderson
Clifford Matthew Anderson (Cliff Anderson)
Born October 22, 1921 was rated number seven in the World when he fought Al Phillips (Aldgate Tiger) at the Albert Hall March 18, 1947 for the vacant Commonwealth (British Empire) featherweight title losing on a split decision. The verdict caused one of the biggest demonstrations ever displayed by a boxing audience in London and warranted a return. Cliff got his wish on July 1, 1947 at Olympia London when he knocked down Phillips three times in the second round and two times in the sixth round. Winning the fight easily Anderson swung a body shot to Phillips. He saw it coming and turned his back receiving the punch on his kidney. Phillips went down holding his back and the referee stopped the bout disqualifying Anderson in the eighth round. Anderson's record reads 125 fights. He won 70, lost 34 won 27 by kayos and drew 10. He died on December 2, 1998. He was 77 years old.



Lennox Beckles
Born October 12, 1942. He fought Johnny Cooke in London on October 16, 1967 for the Commonwealth (British Empire) welterweight title losing by half a point. He fought Cooke in a non-title bout on April 13 1969 in Guyana defeating him on points. Beckles retired in 1979 and became a staff sergeant in the Guyana Defence Force and also a coach. His record reads 62 fights, won 43, lost 16 and won nine by kayos with two draws.
He now lives in Trinidad.
Lennox Blackmore
Born July 10, 1950. Blackmore became the first Guyanese boxer in history to win a Commonwealth title when he travelled to Lagos, Nigeria on 30th September 1977 to defeat Jonathan Dele on points for the Commonwealth welterweight title. He lost to Hogan Jimoh another Nigerian in his only title defence. He retired in 1987 with a record of 30 fights, 25 wins, and five losses with 14 kayos.
Vernon Lewis
Born on June 9, 1949. Former welterweight champion of Guyana. He fought for the Commonwealth title on December 9, 1977 in Trinidad losing to Clyde Gray on points for the welterweight title. Lewis went on to fight Wilfredo Benitez losing on points over 10 rounds. He retired in 1982 with a record of 22 fights, 14 wins and eight losses with six by kayos.
Lewis now lives in the USA. (To be continued)
Around the Web