Former West Indies coach Roger Harper feels that teamwork is the key to a successful series for the West Indies.
The West Indies will take on old nemesis England from today at Sabina Park in Jamaica in the first of four test matches of the 2009 Digicel Cricket Series.
In an invited comment, Harper yesterday said: "The strong point . . . if they will succeed is team work. A collective performance in batting, bowling and fielding is definitely required if they are looking to come out on top. If you should take a look back, that's what let us down. You have individuals performing but they don't perform very well together."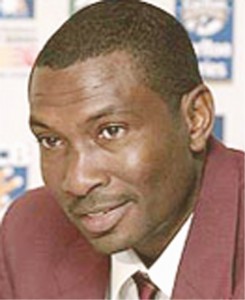 The former West Indies all-rounder added: "Apart from that, the batting is one of the keys also. I always maintain that if you bat very well in both innings of a game, you don't lose games, as you give yourself a very good chance of winning.
"If they can bat well, they also will be giving our bowlers the opportunity to go out there and be more responsible," he added.
The 45-year-old Harper, who played 25 tests for the West Indies and picked up 46 wickets, was appointed West Indies coach from 2000 to 2003, a period of transition for the team.
He feels that the team selected for the first test is a good one which is capable of giving a good account of itself.
"This team does have a decent chance to come out on top over England. Things are not going the way England would have liked it to go, coming on this tour. They have a lot of behind the scenes drama taking place at the moment, and if the West Indies can focus and perform to their potential, they will definitely come out on top," was his candid assessment of the situation going into today's first test.
Harper is however, concerned over the lack of a reliable partner for Chris Gayle at the top of the order as he said a solid platform was needed which players like Ramnaresh Sarwan and Shivnarine Chanderpaul could build upon.
"If they (openers) can give the team a sound start and lay a platform, then you have players in the likes of Ramnaresh Sarwan and Shivnarine Chanderpaul who can come into their own and build on it. But having said that, it would be a joy to see the middle order batsmen bat around Chanderpaul."
Harper said while Brendan Nash brought added depth to the team's batting, wicketkeeper Denesh Ramdin needed to produce more.
"Brendan Nash has shown that he has the mental skills to apply himself to certain situations and if he would be able to go out there and improve on such performances, he will be adding more depth to the West Indies batting, but at the same time we need more contributions from wicketkeeper Dinesh Ramdin," said Harper.
Harper pointed out that the regional team, who will be hunting their first series victory over their opponents since the 1997-'98 team triumphed 3-1, has a fair bowling lineup.
"We have bowlers with potential, who at times lack consistency. Their mental attitude is one that needs to be looked at but as I stated before, once they play as a team they can definitely create the upset."
The West Indies and England will battle it out over four tests, one twenty20 and five one-day internationals in the tour which ends in early April.
Around the Web