Commencing any squash match with a minus handicap is not easy, needless to say a handicap of minus 35 (-35).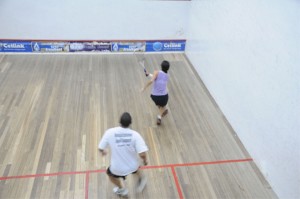 Guyana's world-renowned squash queen Nicolette Fernandes did not only survive her handicap, but also a scare from Allan Downes.
She then romped  home in a thrilling three set encounter 15-12, 15-17, 15-14, as the second night of action in the Guyana Squash Racquets Association (GSRA)/ Bounty Farm Handicap tournament culminated at the Georgetown Club squash courts Wednesday.
Downes, who started the Open category second round game at minus eight (-8), took the fight to Fernandes, but with cat-like movements that left the spectators in awe at times, Fernandes took the first set 15-12, despite a lapse in concentration.
The second set was similar to the first, with Fernandes suffering several lapses in concentration which Downes capitalized on and raced to 12, while she was still at -25 and with his confidence rising and the opportunity to level the match in his sight, Downes pushed himself.
He made attempts to retrieve everything Fernandes threw at him and succeeded in levelling  the match by taking the second set 17-15.
But Fernandes found her rhythm and moved through her handicap with the greatest of ease, before Downes sprung two surprises to reach match ball, with Fernandes still looking at a -2 in her handicap.
A total of 17 rallies prevailed, as Downes sought to close the match and create the first upset, while Fernandes looked to regain the supremacy she held in the first set, with both parties scrambling to retrieve everything that was thrown at them.
But like the true professional she is, Fernandes endured it all and after a few nerve wracking minutes, she took the third set and the match 15-14 to advance to the third round.
Victoria Arjoon received the lone walk over for the night as her opponent 2007 Junior Sportswoman of the Year Ashley Khalil was a no show for their encounter, while Reagan Pollard who like Fernandes will be starting his match at -35 was expected to be in action yesterday, after being hampered by the Air Traffic Controllers strike at Timehri.
Other results from the second night:
Category A Plate
Randy Hope (-15) defeated Alexander Cheeks (+10)   15-11, 15-13
Ryan Da Silva (-5) defeated Nicholas Peters (+6) 15-13, 15-11
Daniel Persaud (+2) defeated Patrick Fraser (+8) 15-11, 15-13
Kristina Cheeks (+6) defeated Ongelle Burnett (+10) 13-15, 15-12, 15-12
Category A second round
Ashley De Groot (-8) defeated Taylor Fernandes (+12) 15-13, 15-13
Open Category second Round
Mary Fung-A-Fat (+10) defeated Lloyd Fung-A-Fat (+8) 15-12, 16-17, 15-12
Juan Carlos Lazo (+8) defeated Luca Palazzo (+12) 15-13, 15-13

Michael Atherley (+10) defeated Alex Gouveia (+8) 15-9, 15-12
David Fernandes (+12) defeated Oliver Kear-Downes (-20) 16-15 14-15
Alexander Arjoon (-25) defeated Medharishi Ramdhani (+8) 15-12, 15-12.
Around the Web