West Indies Sevens rugby selectee Claudius Butts has stopped short of predicting upset wins for the team at the International Rugby Board's (iRB) Sevens tournament in Hong Kong next month but wants the team to play decent rugby and produce some "stunning results."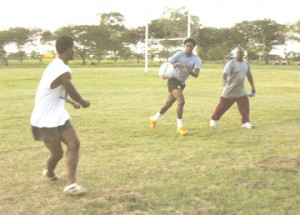 "I am not saying that we are going to upset anyone but I am waiting for the day to play some good decent rugby in Hong Kong and producing some stunning results," said Butts.
Butts and scrum half, Albert La Rose, have begun training for the iRB's prestigious Sevens tourney under fitness coach Cornel Millington.
The two players commenced a more structured programme with Millington at the National Park ahead of the team's encampment in Barbados from February 24.
Butts, who has captained the West Indies development side for the past four years, expects to travel  to Barbados,along with La Rose, a week before the commencement of the camp.
After the team is selected it will travel to Canada to oppose the Canadian national team in a few practice games.
The Hong Kong Sevens, known as the iRB's 'Jewel in the crown,' will feature teams from the top rugby playing nations in the world in three days of competition beginning March 27.
Last year's top eight teams were from South Africa, New Zealand, England, Fiji, Argentina, Samoa and Portugal.
Building speed
and endurance
Butts said their local training programme involves increasing speed and building endurance along with ball handling drills.
The duo anticipates getting much-needed on-field practice through scrubby matches with other local players once there is a break in the weather.
Speaking with Stabroek Sports via telephone,  Butts said he was looking forward to the camp in Barbados as it was essential that the team members understood each others' playing styles.
Though the team has not yet been named,  Butts said he expected all the players to raise their level of play, adding that the recent exposure in Uruguay would have benefitted them all.
Key players
There are a number of key players in the West Indies squad among them La Rose, Luther Burrell and Kelvin Mc Kenzie.
Butts said he expected a lot out of La Rose  who was now fully recovered from a knee injury which basically hampered his play last year adding that the scrum half was one of the more important persons on the field.
"I know he will do better in Hong Kong," he said.
And, England-based Jamaican player Burrell, who plays at "centre or props," will be another key player.
Butts said that Burrell, who plays for the premier Leeds Rugby Football Club, sets a high level of rugby.
"He brings strength and is very physical," he declared adding…"Burrell scored one try at the Punta del Este tournament. He will be an important player on the team."
Of Ireland-based Guyanese, McKenzie, who was named his club's top scorer in tries, last year, Butt said: "Mc Kenzie knows what it takes to win matches."
McKenzie, a winger, who scored a total of five tries at the Uruguay meet, also had good performances playing at a high level in Ireland.
"McKenzie is one of the seasoned players. He, La Rose and I know what it takes," he said.
Coming out of the Uruguay meet, Butts, who plays at centre wing in a position of defence and attack, said…"I had a decent performance and I expect to do a lot more in Hong Kong.
I know the hard work it takes to play at that level."
Butts scored one try in the Uruguay meet.
Speaking of his captaincy, he said that it is a tough job psychologically having to captain and to play but he has found that all his team members are leaders in their own right.
"When I am on the field there are six other players.
"They are leaders in their own right, fully aware of their own strengths.
If I get something wrong, they would know what actions to take. Basically, we all rely on each other on the field."
Coming out of the Uruguay meet, he noted  that there was some improvement by the team.
"Generally, as a unit, the players were more relaxed which led to some fun and actual enjoyment during play.
"I think, we are weaving together some good patterns of play," he declared.
Around the Web