By Rawle Toney
Charlestown and Covent Garden Secondary are the only unbeaten teams so far in the Ministry of Sport Mashramani Schools Basketball Championship after securing respective wins on Monday.
Playing at the Cliff Anderson Sports Hall Charlestown defeated Bishops' High School 36-33 while Covent Garden thrashed New Campbellville Secondary 33-10.
Playing in the first game of the double header, Charlestown and Bishops' High  fought hard even though their style of play was lacklustre. They were cheered on by a small but vociferous crowd at the venue which was obviously encouraging to the young players.
Bishops' High seemed to have the better players but Charlestown, coached by national player Naylon Loncke, was always in sight of their opponents.
The excitement began with just about 15 seconds remaining in the game as the scores were tied at 25, but Bishops' point guard Jerrick Rambissoon dropped a dagger from beyond the arc which sent his side up 28-25.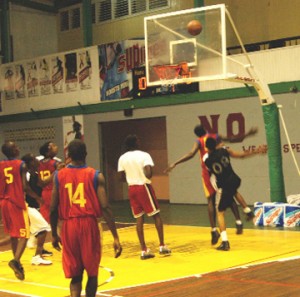 This certainly did not daunt the spirits of the Charlestown boys as their captain Orison Amsterdam took up his leadership role, scoring a miraculous three pointer with just two seconds remaining and tying the game at 28.
It was in overtime that the  Charlestown players seemed more purposeful and dominated the floor chalking up their second win of the tournament.
Amsterdam led all scorers netting 19 points for Charlestown while Yannick Dundas scored 10 points for Bishops' High.
The second game  was a one-sided affair as Covent Garden made light work of the New Campbellville Secondary. At half time the score was 13-5 in favour of Covent Garden.
Jeremey Amos led the score sheets netting 13 points for Covent Garden while his teammate Claude Alexander scored 11 points. For New Campbellville Secondary only Dellon Vantull showed any resistance scoring  four points.
Meanwhile in today's fixture, Marian Academy will oppose West Demerara Secondary from 16:00 hours followed by the Guyana Education Trust College and Covent Garden clash from 17:00 hours.
The final game for the day will take place at 18:00 hours between Critchlow Labour College and East Ruimveldt.
Around the Web