President of the Georgetown Cricket Association (GCA) Alfred Mentore feels that young cricketers must have discipline and proper work ethic instilled in them.
Addressing the opening of a two-day workshop conducted by Roger and Mark Harper at the Demerara Cricket Club (DCC) pavilion, Mentore told the captains and coaches that they must understand that "practice makes perfect."
According to Mentore the main aim of the workshop was to have the players learn about discipline to enable them to lift their game to another level adding that emphasis must be placed on planning and organising in order to succeed in today's world.
"Effective planning has to be an integral part of one's approach to work," Mentore declared.
He said he was of the view that developmental programmes at all levels of cricket must be implemented to better the game not only in Georgetown but Guyana as a whole.
He pointed out that the staging of the workshop showed the seriousness and commitment that the GCA had for cricket development.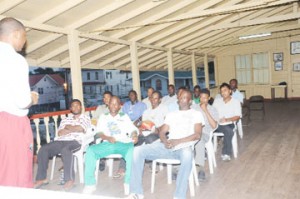 The participants were urged by Mentore to have players participate in structured training sessions prepared by managers and coaches with input from stakeholders to ensure that the targeted results were attained.
Mentore who praised the two facilitators, Roger and Mark Harper, urged the participants to tap into their vast knowledge of the game so that they can pass that knowledge on to the youngsters in their respective clubs.
He said that while it was expected that at the end of the workshop a structured training programme would be developed, he was calling on clubs who already had one in place to further enhance it "for today's competitive environment."
The GCA, Mentore added, will assist in whatever way they can.
Around the Web