Hours after gaining a split decision over challenger Steve Ninvalle to retain his post as president of the Guyana Amateur Boxing Association, Affezze Khan was contemplating giving the post up.
The 65-year-old Khan won the presidency in a straight fight with the 42-year-old Ninvalle on Thursday evening but yesterday Khan, who appeared to be a nervous wreck, told Stabroek Sport that he feared for his life and the well-being of his family after receiving telephone threats.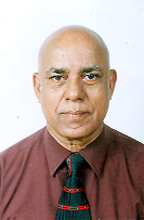 Khan said the abuse started after the votes were counted and the decision announced by returning officer K. Juman Yassin.
An obviously shaky Khan said he was also on the receiving end of verbal abuse from a member of the Ricola Boxing Gym.
"It's not about winning but about the insults which followed," Khan told Stabroek Sport.At the elections on Thursday evening at Olympic House in Queenstown, where 21 of the 23 gyms were represented, Khan bobbed and weaved his way to an 11 votes to 10 win over Ninvalle to retain the position he was first elected to in March 2006.
Two of Khan's three vice-presidents Rudolph Torrington and Keith Lewis were returned to office. They are joined by Eustace Cuffy.
Keith French, who was defeated in his bid for a vice presidency post, is the new assistant secretary/treasurer while Otis Van-Lewin edged out Sean Richmond by 11 votes to nine for the post of secretary.
Ravendra Ketwaru was returned as treasurer after he defeated Dexter Patterson 11-9.
"For all I have given to boxing over the last two and one half years it is frustrating and depressing to be in such a situation," said Khan.
Khan said his family comes first and he will soon be making a decision whether to risk the lives of family members and himself for the sake of the development of amateur boxing  in Guyana.
Around the Web