– says 'Piggy' Griffith
"I will be walking with my notepad and pen but who will be using it, certainly not me. I am the one who sent the challenge out to him because I know I can handle and defeat him even though he has been in the sport of boxing before me."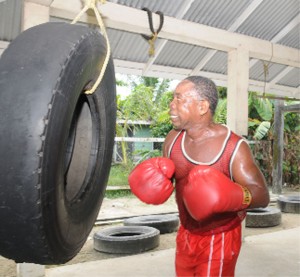 Those were the words of 54-year-old Clifford 'Piggy' Griffith who will face Cecil 'Kokerdog' Alfred in a catch weight bout at the Cliff Anderson Sports Hall on the S&S Promotions card on February 28.
The card will  also see Lennox Allen matching gloves with Leon 'The Lion' Gilkes in a middleweight encounter prior to a ring date with middleweight champion Howard Eastman.
Griffith, who commenced his amateur career in 1979, was responding to an order sent to him by Alfred, who had earlier warned his opponent to walk with a notepad for a boxing lesson when the two meet.
"I am a former soldier and also a disciplined person. I was taught the two main C's in any disciplined organization, which is Comply and Complain. So I will be complying by walking with the pen and notepad, but he will be doing the complaining as he will be the one using it," said Griffith. "Alfred was afraid of the professional arena so he never stuck around, even though he was a very good amateur fighter. But I have more ring experience than him as a professional and come February 28, I will prove to him and his supporters  how superior I am to him."As a lover of the sport, I have not seen anybody in my age group that I can compete with. Apart from that, there was always the talk that he can defeat me as a professional. With that in mind and we not being able to meet, when the opportunity arose I sent out the challenge to him and he accepted," said Griffith.
"I am coming to set the record straight. I was never ducking from him. We were to meet in a street fight back in 1983 but I suffered a head injury and could not honour that agreement, but I am here now so let's get it on."
"I never knew a dog is stronger than a pig. Pigs may love mud but they have to have the strength to wade through same and come fight night it will be proven who the better fighter is even though he has been in the sport before me."
Griffith said that Alfred's record as an amateur is an outstanding one, but his ring experience is what he will be banking on when the two clash.
"I have fought boxers in the calibre of 'Baba' Simmons in the final of an amateur tournament at the Police Sports Club (PSC) ground and after that match I was approached by Fitzroy White and Lennox Blackmore, who unfortunately is the cousin of Simmons.
"Even though I lost to Simmons, I put up a good showing and both men later contracted me as a sparring partner for Blackmore who was preparing to match gloves with Aaron Pryor," said Griffith who has recorded victories over Compton Callender and Calvin Marcus.
Around the Web