The England and Wales Cricket Board has suspended negotiations with Sir Allen Stanford over a new sponsorship deal after fraud charges in the US.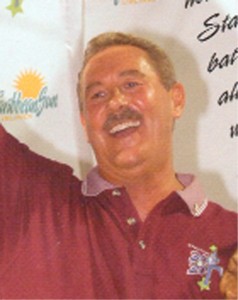 The Texan billionaire and cricket promoter has been charged over an alleged $8bn investment fraud.
The US Securities and Exchange Commission has applied for a temporary restraining order against Stanford and the Stanford Financial Group.
The ECB has a five-year deal to play games against the Stanford Superstars.
In June 2008 it agreed to play five winner-takes-all Twenty20 matches in the Caribbean after signing a deal with Stanford.
England lost the inaugural game against Stanford's side on 1 November last year, with the Stanford Superstars players collecting the $20m (£12.4m) prize fund for winning the game.
It brought massive publicity to the sport but the match also came in for huge criticism from some quarters, with ex-ECB chief Lord McLaurin labelling it a "pantomime" and "obscene".
There were complaints about the standard of the pitch and the lights during games, while Stanford had to make an apology after he was pictured sitting among the players' partners, with wicket-keeper Matt Prior's wife Emily on his lap.
It is thought to be the richest team prize for a single sporting match, but the ECB was forced to deny suggestions it was looking to pull out of the deal.
ECB chairman Giles Clarke defended their decision to sign a deal with Stanford.
"A lot of work was done to ensure we believed he could pay the prize money he was offering and that money was paid into bank accounts in advance," he told the BBC.
"None of these accusations had been levied at the time."
But the BBC's cricket correspondent Jonathan Agnew suggested the ECB's involvement with Stanford had been a huge mistake.
"This whole business since the day he arrived in his helicopter at Lord's has been rather vulgar," he said.
"If he is found to be guilty then there will be questions raised about the integrity of the ECB and this alliance with him.
"But the West Indies side of things will feel a much greater impact than back home. It is here where it will be most felt, with this benefactor who was offering them all sorts of rewards.
"It was a rather nasty business all the way through and a huge gamble to get involved with him anyway."
]Stanford had been expected to become a major backer of the proposed English Premier League Twenty20 tournament from 2010.
Clarke added that Stanford had every right to defend himself against the allegations, but cast doubts on the likelihood of a four-team tournament involving the Stanford Superstars at Lord's in May going ahead.
"There must be serious questions as to whether that will take place," he said. "There are a lot of legal and contractual issues which will have to be considered.
"We will be looking at the situation with a matter of emergency. There will be teams in the country for the World 20/20 Championships so we expect there will be games staged at Lord's – international teams are all coming over to England anyway."
A spokesman for Stanford Twenty20 declined to comment on the allegations.
The 58-year-old Stanford made his fortune in the 1980s in Houston real estate, before expanding his grandfather's Stanford Financial Group into a global financial services provider which now manages US$50bn worldwide.
Stanford, who holds Antigua citizenship and is said to be the second biggest employer on the island, has an estimated fortune of US$2bn.
Around the Web