-Thompson wants sport to regain `top dog' status
President of the Old Fort Hockey Club (OFHC) Ivor Thompson is pushing for the sport to be expanded countrywide with the hope of increasing the club's membership by fifty percent. He also wants Guyana to regain its status as the number one hockey team in the Caribbean.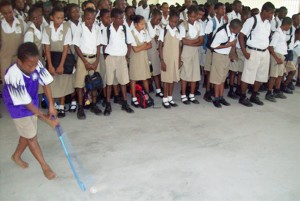 "When I was a player during the time 1988-1995 we were the number one in the Caribbean," Thomson a former national hockey player told Stabroek sport.
"We have to regain our number one status," he added.
The club has eighty registered local members and fifty overseas members which could swell to 120 and 75 respectively by the end of 2009.Thompson disclosed that at the moment the club was involved in a programme involving North Ruimveldt Multilateral Secondary and St. Joseph High Schools.
The aim of this programme is to have more students involved in hockey and towards this end Thompson said, training is done on Tuesdays, Thursdays and Fridays. According to Thompson the programme is a part of the club's effort to see the game being enhanced locally with the aim of raising the standard back to the days when Guyana was regarded as the "top dog" in the Caribbean. The club, which is working along with the Guyana Hockey Board (GHB), will head to Linden on March 10 to hold a `Hockey Day.' That programme will run from 9am -5pm and the idea, Thompson said, was to resuscitate the game there.  "In the 1980s and 90s the Mackenzie Sports Club had a thriving hockey club producing such national players as Colin `BL' Aaron, Gregory and  Selwyn Sills and female player as Annie Bobb," Thompson recalled.
Thompson said that they have suggested to the GHB that other clubs come along to liven up proceedings.
Meanwhile, Thompson said the club was presently looking for a corporate sponsor and they are putting things in place to welcome any sponsor this year. The club, he said, intends to go on two Caribbean tours to Barbados and Trinidad and Tobago where they will take part in two outdoor competitions. "We do not have astro turf (facilities) here so we are going for some exposure over there."
Around the Web