Three  West Indies batsmen would not have slept easily last night. Devon Smith, Ramnaresh Sarwan and Denesh Ramdin may well be tossing and turning for a few weeks yet.
The obvious requirement was to keep England at bay as long as possible, at least until midway through the fourth day. That would deny their opponents the lead and the time to make the most of their daunting total of 566 for nine declared.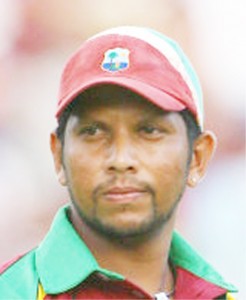 Repeatedly during the long, hot day, all was going to plan only for rash strokes to give England timely wickets.
For the first hour, Smith and his night watchman partner, Daren Powell, batted with the necessary care, attention and commitment.
As England's two premier fast bowlers, Steve Harmison, stricken by nausea, and Andrew Flintoff, with a dodgy hip,  laboured uncomfortably in the roasting sunshine, the left-handed Smith and Powell played through the first hour without alarm.
All seemed quiet on the ARG front when the first refreshment break intervened. Immediately on resumption, Smith went for a leg-side slog from off-spinner Graeme Swann, the kind expected in the closing over of a 20/20 innings, not in a Test match that needed to be saved. He missed, the leg-stump was knocked backwards and a two and a quarter hour of diligent judgment was wasted in an instant.
Powell has not batted throughout his career with as much calm common sense as he did after sent in to see out the day on captain Chris Gayle's dismissal the evening before. He had done his job and more when he edged Swann to slip 40 minutes to lunch.
By then, Sarwan was established and playing with the confidence of his hundred in the first Test. Ryan Hinds soon overcame an unsteady start and, for the next hour and a half, the left-handers steered the West Indies towards the safe haven they were seeking.
Hinds confirmed the quality that has made him so prolific at regional level but his role was only just evolving when he snicked a good one from Flintoff to the 'keeper.
Shivnarine Chanderpaul, the foundation for so many struggles over the past two years, arrived, traipsing to the wicket as if carrying the weight of the world on his shoulders.
His body language was unusual and revealing. For once, he did not seem ready for the task and he duly departed fifth ball.
Given recent history, it was a stunning setback. But Sarwan was still in, batting with complete assurance on the way to what appeared a certain hundred.
The adhesive Brendan Nash joined him to help steady the listing vessel. As Nash eeked out nine runs, a partnership of 50 was raised.
It was ended by another rush of madness, this time by Sarwan. Needing six to reach his landmark after three hours, 20 minutes, he elected to get them with one stroke.
An ugly crosshaul off Swann that was a blemish on an eye-catching innings resulted in a catch to mid-wicket.
After Smith, it was the second waste for the day. Another followed next ball as Ramdin drove a full-toss back into the waiting hands of the jubilant bowler.
It is such indiscretions that lead to defeat and the West Indies will do well to avoid one now.
Around the Web