-says T&T coach
Coach of the Trinidad and Tobago (T&T) cricket team Kelvin Williams yesterday described his country's chances against Guyana in their seventh round West Indies Cricket Board (WICB) Regional four-day encounter scheduled to commence tomorrow as "good."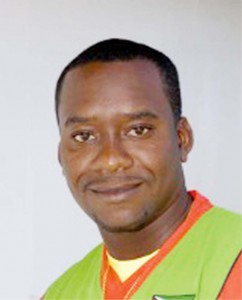 Speaking with Stabroek Sport after his team's first practice session at the venue since arriving in the country on Tuesday night, Williams said that Guyana's four losses in their first five matches would serve as a confidence booster for his team.
"When you look at the returns Guyana has had so far in this year's competition and compare it to ours, you would see a difference and that alone has placed us in a psychological advantage over them come Friday."
The 49-year-old Williams, who played 27 first class matches for his country, and took 59 wickets at an average of 29.62, has one blemish on his record as a coach and that is the loss of the 2008 Carib Beer Challenge trophy to Jamaica in three days last year.
"They have four consecutive losses in their first five games while they came away with a draw against defending champions Jamaica in their last game. On the other hand, we have won one of our games and drawn the other four."
Williams said his team would not  be complacent against the Guyanese who will be playing their second match at home adding that his team knows what it takes to perform at this level against any opponent.
"This is a long season and consistency is a key if you need to be a strong competitor this year. When you look at the front runners you will see that it can take just two teams to pull off victories to stop them. However, the guys know what it takes to be consistent constantly."
Williams bemoaned his team's poor batting performance against Jamaica where they lost first innings points, but said he hoped that there will not be a reoccurrence against Guyana, especially with the lineup of Adrian Barath, Lendl Simmons, Darren and Sherwin Ganga and Kieron Pollard.
He also complimented his bowling lineup of Pollard, Ravi Rampaul, Samuel Badree and Sherwin Ganga whom he said have been pulling their weight so far in this year's tournament.
"Our bowlers have been bowling exceedingly well this season, even though they have not been picking up the wickets as they were doing last year. Nevertheless, I am confident that they will strike against the host," Williams declared.
Whilst congratulating Darwin Christian who scored his maiden first class ton against Jamaica, Williams  said he believes that the level of cricket Guyana puts out against his team will speak volumes for them.
"Christian's ton can be a plus in his cap, but the level of performance Guyana puts out against us is what will speak for them. But we will be sticking to our game plan with a view towards executing same to the last punctuation mark.
"We cannot take their bowling for granted, therefore we will not be complacent as we expect them to come out and do their job. They have young Brandon Bess who created some interest at the Queen's Park Oval last year and we expect to see more of him this time around.
"They may be lacking in experience but they have been selected to do a job and we will not be underestimating them. However, we are looking forward to continue playing good cricket as we have been doing so all season, even with the knowledge that Guyana is a very good team despite the unfortunate position they find themselves in at the moment," Williams concluded.
With four consecutive losses, Guyana were fortunate to come away with a draw against Jamaica in their last match at the same venue, thanks to Christian's ton (113) and skipper Travis Dowlin's resilient half century which saw them avoiding  a follow on for the first time this season.
They should be looking for an improved performance against the twin island republic team whom they will face from tomorrow, and who defeated them when they last met at the Queen's Park Oval last year, thanks to two magnificent innings from double world record holder Brian Lara.
Around the Web