Region Eight's (Potaro/Siparuni) 2009 Mashramani sports programme has been given a major boost with sponsorship from local beverage giants Banks DIH Ltd for activities planned in the mining community for Mash Day.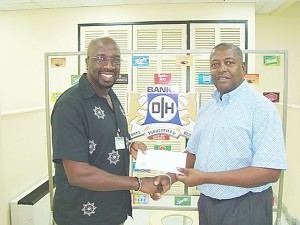 Banks DIH Sales and Marketing Director George McDonald recently presented a sponsorship cheque to Daniel Fraser, Chairman of the Region Eight National Events Committee (NEC) to stage a circle tennis tournament that is expected to attract four top teams next Monday at the Micobie ground.
Fraser, who is also Information Officer in Region Eight, disclosed that the NEC will stage circle tennis and football competitions in addition to the usual costume and float parade that will attract many of the 10,000 residents and visitors to the community.
He disclosed that the competing teams in the circle tennis competition are Campbelltown, Mahdia, Micobie and El Paso who will compete for a top prize of $20,000.
Fraser said Region Eight was very thankful in a great way for Banks DIH's sponsorship towards the sports programme.
"We had initially made contact with several corporate entities but only Banks DIH responded positively and we would like to thank them in a great way," he added.
McDonald said that Banks DIH would be focusing on community based activities this year and his company was pleased to offer support to Region Eight especially during the nation's 39th anniversary as a Republic.
Around the Web