By Rawle Toney
Long-standing president of the Guyana Football Federation (GFF) Colin Klass has said that the present economic downturn is having an effect on the country's football administration.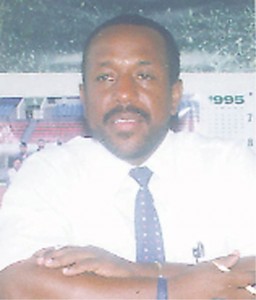 According to Klass  during a recent interview with Stabroek Sport,  since the Federation has been tirelessly approaching sponsors to get some of its planned programmes off the ground, the main cry is "there is a hold on spending" and this he says is not only happening in Guyana but the world at large.
He said further that so great is the global crisis that it is having its toll on the world governing body for the sport, FIFA.
"If you look at the activities of FIFA you will see that there has been a slowing down of its programmes, say except for administration and developmental programmes which are essential for the smooth running of the organization."
He observed also that people often hear about the grant of US$250,000 which is allocated by FIFA to its member associations and think that football is rich, but still it's not enough to run football in any country, hence, the support from corporate Guyana and the government is needed.
Devaluation
Against the backdrop of the world financial problems Klass said that the US$250,000 or GUY $50,000,000 only sounds big but when the money is placed next to the US dollar it is valued lowly.
He noted that the US dollar is going down and as such things will now be more expensive that  means it will be right back to square one. "Yes FIFA gives us money, which they do to all its members, but people in Guyana don't look outside and see the support which these other countries get from corporate entities and their respective Governments.
"Let's take a look at Trinidad and Tobago and Jamaica for example. Those two countries like many others also receive money from FIFA, but still the Government of those countries throw a great lot behind them. As a matter of fact, the technical team or the federation's technical staff is being taken care of by the government," said Klass.
He maintained that while the GFF is responsible for administering the sport in Guyana, the Government and the business sector  have to chip in.
Just excuses
He also contended that support plays a great deal in success as well, reminiscing on Guyana's success over the last two years which led to all out support for the team  during the second round of FIFA World Cup qualifiers which were played against Suriname.
But one thing that GFF top man was repeatedly asking is, "What have we (GFF) gotten in return?" and his own answer was "just excuses."
"When we were doing the audits I was asked what we have gotten in return for spending this much money but all I can say is that we have gotten nothing but excuses. Yes I think that the guys have played well but still I think we have gotten plenty excuses when we are not successful," Klass lamented.
This time around with the GFF not having any international  engagements for the next two years, Klass said the money will be spent wisely starting with development and reaching out and exploring the talents in some of the country's rural areas.
Around the Web