The Ramdhani siblings, Narayan and Priyanna stamped their authority on the National Sports Commission (NSC) Mashramani junior singles tournament which ended last week by winning the U-11 and U-13 titles.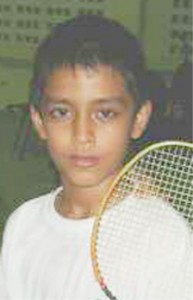 In the final of the U-11 girls' singles category played at the Queen's College auditorium, seven-year-old Priyanna Ramdhani defeated Mia Persram 21-2, 21-2.
Third place went to Rebecca Lowe who defeated Ria Persram 21-3, 21-9.
In the semi-finals Ramdhani defeated Ria Persram 21-2, 21-4 while Mia Persram edged Lowe in three tough sets 21-7, 16-21, 21-13.
In the boys' U-11 semi-final Narayan Ramdhani defeated Diquan Naughton 21-4, 21-0.
Ramdhani had gotten past his cousin Armand Ramdhani 21-1, 21-2 in the semi-finals while Naughton got the better of Shane Shewjattan 21-16, 21-17.
In the third place play-off Shewjattan took care of Armand 5-21, 21-11, 21-17.
Ramdhani won his second final when he defeated Peter Peroune in the boys' U-13 final.
Ramdhani won 21-16, 21-14. In the third place playoff A. Alvis turned back the challenge of S. Ramdhani winning 21-12-, 21-10.
In the girls U-13 final, Priyanna Ramdhani defeated Mariah Lowe 21-14, 21-14.
Lisa Persaud was third and Althea Mc David, fourth.
Around the Web