Leon `The Lion' Gilkes is a man looking to make a name for himself in the boxing ring.
On Saturday Gilkes will meet Lennox `Pretty Boy' Allen in a 12-round elimination bout.
Apart from the purse at stake, the winner will earn the right to challenge Howard `The Batttersea Bomber' Eastman for the middleweight title of Guyana.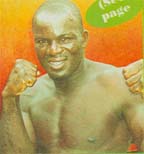 The "Lion" Gilkes is all set to roar in the main bout of the card by S&S Promotions in conjunction with the Guyana Boxing Board of Control dubbed "Heat wave Boxing Extravaganza."
The 31-year-old boxer is preparing at the Andrew `Sixhead' Lewis gym in La Penitence under Lennox Daniels.
Gilkes told Stabroek Sport:"I'm looking at the fight leading up to a championship title with Howard Eastman.
"I have been doing really well in my sessions. That is not a boast but rather a fact. I'm always in good condition but if I had to rate how prepared I am now, I would have to say that I'm in the best shape of my entire career."
Gilkes has been training about two months now and is in tip top shape hitting the gym scale at 172 pounds. Gilkes is confident that he will win and win big.
"I will not predict the round but I know he will fall and we are going for victory and will come out victorious."
In addition to Gwendolyn O'Neal, Gilkes has also sparred with Clyde Williams, Quacy Jones and Patrick Boston, who will all be appearing on the card.
According to Gilkes, once he gets past Allen, he will turn his attention to Howard Eastman for his title. Then a return with Denny Dalton who knocked him out in the seventh round of their non-title fight in 2004.
"When I'm done with Allen, I want Eastman. Then I want to have a rematch with Denny Dalton.  I want to prove to them that I can beat him fair and square. Gilkes, who campaigned in Canada from 2000 to 2002, had three draws with two losses and one win in Canada.
He also lost to Mitchell Rogers for the heavyweight title of Guyana in 2006.
Allen, who is training in Florida, USA, is expected to arrive on Tuesday to keep his ring date with Gilkes and a press conference is scheduled for the following day at the King's Plaza Hotel on Main Street, at 10am.
The weigh-in of the boxers will be on Friday evening at the same venue at 9pm.
Fans will get a treat after the weigh-in with three boxing videos scheduled to be shown, featuring Julio Caesar Chavez and Meldrick Taylor, Patrick Ford versus Salvador Sanchez, and Antonio Margarito versus Shane Mosley.
Around the Web