By Rawle Toney
President of the Alpha United Football Club Odinga Lumumba says that his team will be intensifying their preparations ahead of the Caribbean Football Union (CFU) Club Championship.
Speaking at a press conference hosted by the club, Lumumba said that his club will also become the first team from Guyana to participate in the Caribbean tournament, and the team starting from this weekend will be encamped for three weeks.
Alpha Untied will begin their campaign on March 21 at the world famous GCC ground, Bourda against Tempete FC from Haiti and will play the return leg on March 29.
Towards this end the club has drafted into its fold several of the country's top players with former national captain Charles "Lilly" Pollard being in the lineup along with one player from Canada and three from the Brazilian state of Roraima.
And according to Lumumba, "It's shape up or ship out," for the players who are not prepared to work hard. The club president said that the tournament is very important for his club and more so Guyana since they have nothing more to gain from playing on the local scene.
Underscoring that the exposure of players to the international circuit is very important, Lumumba made reference to striker Gregory "Jackie Chan" Richardson who because of playing in the same CFU/CONCACAF club championship is now almost on the verge of landing a MLS contract with Toronto FC.
The venture Lumumba also said will be very expensive since approximately $40M will take the team through to the CONCACAF stage of the tournament, and so a call is being made for corporate sponsorship to make this a reality.
Already, he said, they have engaged the Government of Guyana and Courtney Benn Construction Service who  have all supported his club in the past.
"I think any way we will be going but without this support it will be hard. It's like the Guyana national team when they say that they need this support and that support, but the bottom line is that they have to play, but the support will make the players more comfortable and to focus on the games at hand," said Lumumba.
Leading up to the tournament, the team will be engaged in a series of matches starting with the present Mayor's Cup Tournament. They are also down to compete against Trinidad and Tobago Pro-League club Joe Public along with a Brazilian side from the state of Roraima and an All Star team comprising players from the various associations along with a President's XI.
Meanwhile Pollard, who has since been named the official team  captain, said that he's happy to be part of one of Guyana's leading clubs and he feels that he can bring something which is lacking greatly in local football and that's discipline and professionalism.
"I think it is very poor, some guys train today, miss tomorrow and train the next day and I think this is something I stress on a lot. If we do not train, we cannot play and never mind about your name and what you did before. Football calls for lots of training and I think we have tremendous talent on the team but the attitude is very poor," Pollard said.  He also gave kudos to mid-fielders Leon Grumble and Quincy Madramootoo for displaying a great deal of professionalism although they were lacking in some areas.
"I think these are players with tremendous talent but their mentality was very poor towards training.  I sat and had a chat with them and they accepted that they were slipping up and they were willing to give their all for the tournament and beyond. So far the players have shown me a lot of respect and this is something I also show them and we are building this team as a family and this is what we are working on," said the team captain.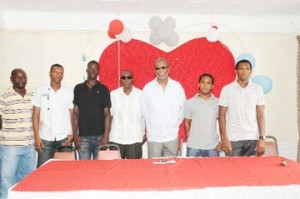 The CFU tournament features several of the Caribbean's top football clubs and they will all be vying for a spot in the CANCACAF Champions League. Second round action in the CFU tournament will be on April 13 and 20 with the final round being played in Trinidad and Tobago from May 15-17. The top three finishers will automatically qualify for the CONCACAF Champion League.
Around the Web