By Kizan Brumell

Two games, two victors, two losers, such was the pattern of the opening night of annual Mayor's Cup knockout Football Competition as the Guyana Defence Force (GDF) and Georgetown Football Club (GFC) romped to victories in the first double header of the tourney at the GFC Ground, Bourda.
Linden's Milerock and Bakewell Top XX were both eliminated after suffering 2 – 1 losses at the hands of GDF and GFC respectively.
In the curtain raiser of the evening GFC dominated what looked like a rusty Top XX team and drew first blood just a few minutes before the half time whistle compliments of a 42nd minute Teashaw Blackman strike.
Blackman was challenged roughly by the defender after he received a good ball from midfield, rushing to the right he managed to get a shot off even as he was off-balanced and the ball sailed over the custodian who was at full stretch.
After the 15-minute break, GFC added to their 1 – 0 lead when a left flanked corner kick, taken by Blackman, was sunk by a great header from his team mate Rodwell Wellington in the 62nd minute.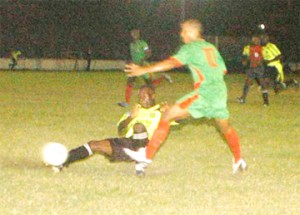 GFC continued to dominate possession  with Michael Rowe and Marlon Cole playing commanding football in mid-field for GFC while the Top XX strikers often found themselves on the receiving end of numerous offside whistles.
Top XX's goal came in the second minute of injury and stoppages time when Nelton Primo displayed some of his dribbling skills to get past a GFC defender and thump one past the goal keeper quite easily.
GDF and Milerock both played stunning football, each team had shots to goal and broke down each others' attack with unyielding defence, but on Friday it was the team that made the least errors who won.
Milerock made the first error of the game and paid dearly for it in the 22nd minute.
Milerock's custodian let down his guard for a second while the GDF backline was crossing over the half-way line with the ball and Jerome Richardson took a shot from  about five yards over the mid-field line.
The shot  made its way into to top right corner of the goal even as it Milerock's goal-keeper made a desperate attempt to save it.
Soon after both teams were down to 10 players each when a sideline incident saw the red card treatment being given to the players involved.
When the game continued GDF's second and final goal came in the 77th minute after Wesley Hall buried a cross near the far post.  Milerock's most rewarding corner of the evening came in the 79th minute, taken by Omally Reid on the right flank. The kick found Jermain McBean and he made no mistake with a wonderful header that nudged the score line 2 – 1.
Around the Web